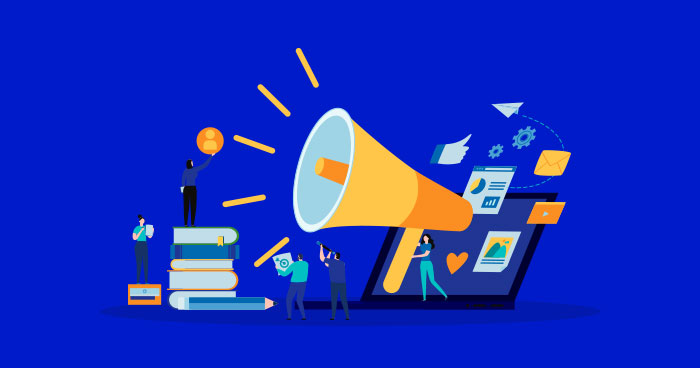 If you are good at writing then why don't you go for earning through your writing? Yes, you can monetize your blogs? If you don't know how or which is the best medium to do so then this is the perfect blog by AXAD for you.
Are you looking for the best mediums to monetize your blog? Then affiliate marketing is the perfect answer for you. Because it has many benefits that can surprise you. monetizing blogs through affiliating marketing is becoming a top trend nowadays. So what are you waiting for? Let's start your strategy to earn your own.
Here AXAD experts are giving tips to those you need to know about blog monetization through affiliate marketing:
Affiliate marketing is a strategy where you can earn a commission for recommending products or services to your contacts. You can include your family, friends, colleagues, or any other blog reader in this.
So let's go through this blog and know more about affiliate marketing for beginners. Firstly you need to find a product or service that you want to promote. Then for registration in any affiliate program. In this stage, you will get a special link. This link lets the company measure the number of online users who clicked your link. Once they buy a product through this link, you will get a commission.
Why is affiliate marketing better? Reason:
Many bloggers depend on banner ads to monetize their website, however, it makes their website look quite unappealing visually. Without attracting a substantial amount of traffic it is impossible for you to earn a profitable income.
Affiliate marketing gives the chance to reach out to and attract more readers. The industry itself has grown phenomenally since its inception. This encouraging scenario describes that affiliate marketing is here to stay for a longer period.
Affiliate marketing has proven itself as the easiest medium for blog monetization. Here to promote your company product you can add product reviews and tutorials. It will definitely focus on the content quality to get the desired results.
Benefits of monetizing a blog through affiliate marketing:
Find the best way for passive income

: It will help you to receive compensation for years after creating the content.
Manageable without customer support

:

Affiliate marketing programs

link sellers directly to consumers; hence no need for customer support.
You can work from anywhere

: Many bloggers pursue this venture because they can work and earn from home.
Most affordable start-up

: Affiliate marketing programs don't require as much capital investment as other businesses.
5

.

Rewards based on performance

: Affiliate marketing is also called performance marketing. Because here rewards are available on the basis of performance. Improving your skills through reviews and writing engaging blog posts can turn into increasing your revenues.
AXAD is giving tips on how to get started with affiliate marketing to monetize a blog. Check out the in-depth overview:
Find your targeted audience:
Know your readers and find what they're attempting to find on your website. Find common characteristics and use them to make content that resonates with their needs. to understand your audience you have got to learn:

Survey with relevant inquiries to identify what your audience is trying to find. Plugins and a good range of software also help to gather data.

Join in discussions on different social channels like Facebook, and online communities like Quora to achieve insight into your audience's interest.

Observe visitors' behavior through different tools like Google Analytics and lots of more to grasp about readers' likes, dislikes, interests, patterns, and plenty of more insights.
Go through reviews to seek out popular products customers buy and why they are doing it.
Create high-value content
Prepare quality content to assist your readers gain value. detain mind Google will evaluate the content value when ranking search engines is critical. the worth of content includes:
Relevancy of the blog with relevant keywords, links, and content

The uniqueness of the content includes pure authenticity

The usefulness of the content means it should be readable by visitors
Choose the affiliate product to market
Instead of choosing products as per your content, consider products that grabs audience interest. Typical products utilized for monetizing blogs with affiliate marketing programs include:
Digital downloads,

These are all online resources like video files, ebooks, or webpage links that readers can easily access.

Professional services

like creative business, design, and content marketing are valuable for affiliate marketing. Research, membership sites, and consultancy are excellent mediums to monetize your product.

Online courses

are the most effective support for bloggers to collect digital products.

Ecommerce stores

that promote physical products must work on high-quality, distinctive products to focus on a particular audience.
Choose relevant affiliate marketing programs
You need to search out an affiliate marketing program that enhances your niche or blog content. The location hosts thousands of brands offering affiliate programs like CJ Affiliate, ShareASale, Amazon, ClickBank, etc.
Apply for your affiliate program
When you apply for a partnership with the program, you'll be required to provide:
Personal information for tax purposes

Your checking account for the compensation purpose
In turn, the merchant provides an affiliate link that enables them to trace purchases made through your website.
Consider the sort of affiliate commissions
There are different models available which will make a large difference in your overall monetization strategy. They include:
One-time commissions:

This model is right for affiliates marketing one-off products or services

Recurring commissions:

The model is predicated on subscriptions. Once customers subscribe to a thought, the affiliate receives a commission.
Promote your affiliate offers
Your blog is monetized when the reader, visitor, or customer purchases the merchandise. Here you've got to guide the reader to the merchandise after convincing them about its value.
Build a resource page on your website to market different products and organize them to support the audience visiting your blog.
Create promotional content, it will be within the kind of reviews, definitive content, or valuable bonus content.
Comply with FTC Requirements
The Federal Trade Commission, websites, and blogs are required to let users know that they're earning a commission through an affiliate program.
This means whenever you share an affiliate link on a blog post, email, or website, let the readers know that you simply will earn a commission if they buy the merchandise. Also, assure the customer that you've used the merchandise and are confident it'll help them.
Include Calls to Action
Strategic calls to action woo visitors into finding more about the merchandise or service after reading through the content. The concept is to use attractive wording and find strategic areas to put the CTAs in. Here are some ideas:
The sidebar

In the content

On the homepage

On the menu
Track, Analyse, and go with Increase Conversions
Generating results in affiliate sites doesn't always yield conversions. you wish to remain on top of your game by analyzing the leads and conversions to work out if you wish to boost your marketing strategies.
Some affiliate programs provide such data allowing you to investigate it, obtain actionable insights, and make adjustments.
You may also use Google Analytics because it tracks every user's movement on an internet site while providing useful interests and demographic data.
Optimize for Mobile Browsing
Generally, most visitors use mobile devices when browsing the web. As such, you wish to optimize your blog, affiliate links, and promotion products to those devices.
Final Thought
With this guide, you're able to monetize your blog with affiliate marketing. Follow this process and you'll be pleasantly surprised how quickly you'll be able to see extra money coming from your blog month after month. If you find it difficult then AXAD affiliate marketing is that the best firm that may facilitate your monetization of your blog and earn a good through it.
---