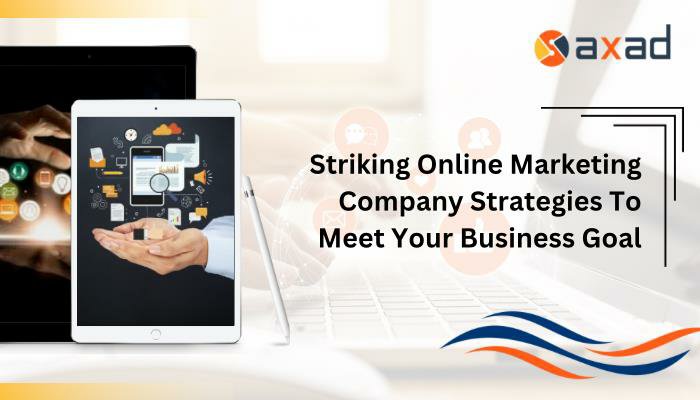 Internet marketing is defined as using numerous tactics and channels to connect with customers where they spend much of their time: online. After the pandemic things have gotten challenging for both marketers and business owners.
It is a difficult time for marketers agency to follow the traditional ways of marketing as things are being turned upside down. As more and more businesses are coming online, therefore now it is even more crucial for you to build a strong online marketing strategy to stand out. If you have not already switched to online marketing, now is the time to get your brand on board with a top online marketing company like AXAD.
There are many different online marketing strategies that businesses can use to reach their target audience and increase their sales.
Search engine optimization (SEO)
The process of optimising a website for search engine results pages (SERPs) is known as SEO. This can be achieved by using relevant keywords, creating high-quality content, and building backlinks to the site.
Content marketing is the process of practising producing and disseminating worthwhile, pertinent, and consistent material in order to draw in and engage a particular target audience is known as content marketing.
Social media platforms like Facebook, Twitter, and Instagram can be used to promote products or services and engage with customers. Businesses can use social media to share content, run promotions, and respond to customer inquiries.
Email marketing is the process of sending promotional messages to a list of email addresses. This can include newsletters, product updates, and special offers.
Paid advertising, such as Google AdWords or Facebook Ads, allows businesses to reach a large audience quickly by placing ads on search engines or social media platforms.
Influencer marketing entails collaborating with people who have a sizable social media following to promote your goods or services.
Affiliate marketing is the process of paying commissions to third-party affiliates for promoting your products or services.
Apart from these common tactics, AXAD is here to suggest some important strategies for adapting your online marketing approach in times of crisis.
Take the help of Social media to alleviate business disruption

The Internet was the best medium to overcome the stress of isolation during a pandemic. More than ever, businesses must use the majority of social media platforms to communicate with customers. Numerous sectors, including education, healthcare, and e-commerce, have prospered as a result of putting more emphasis on social media; they reaped enormous rewards by turning social media marketing into a high-volume/pitch activity. Add engaging content, and services that can grab your audience's attention and trust us this will outlast the epidemic and become the new normal in the years to come.


Mark Your Online Presence


If you are looking for an improved online presence then you need to work on both organic traffic and conversions. Your website needs to operate with good search engine optimization principles to stick with the ever-increasing competition.


Your emphasis keywords may experience a drop in organic traffic at this time, but you can try to combat this by creating content on subjects that are popular right now. In the current environment, your competitors could be too preoccupied with attempting to survive to give their websites the attention they need. Create outstanding SEO to support you when things start to turn around and to give you a great chance to be the first to market.


Use PPC Advertising


Increase your pay-per-click(PPC) advertising. This is an excellent time for brands to stand out from their competitors in the niche domain. Find your specific marketing goal to build your identity, then decide the relevant metric to measure for the marketing.


Come Up With New Marketing Niche Ideas


A more profitable but risky option is finding a new niche to jump in before most or maybe create one. In order to do this, you can begin by conducting trend research to determine what is now most needed and how the questions are formulated properly. With a real agile and proactive mindset, coming up with a highly promising online marketing niche idea and focusing on it can be more rewarding than trying to get a piece of others' pie.


You need to test both social trends and Google searches to broaden your trend research. You can check TikTok like Creative Center, Twitter TTs, YouTube Trending, and other sites to identify recently created social media marketing niches. Utilising Google Trends can be a great place to start on the Google side.


How To Choose The Best Online Marketing Niche For Your Agency?


To find the most profitable option for a marketers agency, you need to focus on your passions, interest and expertise to narrow down your choices. Analyse your agency's strong and weak points in light of previous successes. Identify the intersection of your strengths and interests that would lead to high motivation to have a proper niche listing.


Then research the listed fields in terms of profitability and longevity before taking the next logical step to take. There should be a profitable market to get a large piece of the pie but if the market has already dominated, then look for other promising marketing agency niches.


Talk to professionals like AXAD and learn what problems you encounter in the same niche. Make a detailed competitor analysis. This can help you to understand how powerful your competitors are and know their strengths and weaknesses.


Final Thought


In conclusion, online marketing is a powerful tool that can be used to reach new customers and increase sales. By using a combination of different online marketing strategies, businesses can improve their visibility and generate more leads. However, it's important to remember that online marketing requires consistent effort and attention to achieve the desired results. AXAD is well-versed in its strategies, which is the reason it is counted as the best online marketing company.
---