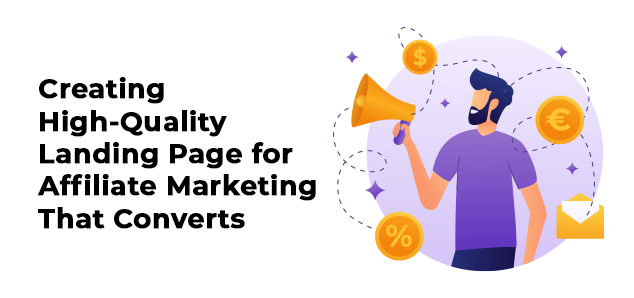 When you are in an online business all your marketing campaigns need a landing page. It won't be wrong to say, an affiliate landing page can make or break an affiliate marketing campaign. However, are you sure your page is doing its job? Does your landing attract the right visitors? Does your landing page for CPA offers maximise conversions? If your answer is no or puzzled then in this post, the AXAD affiliate marketing creative wing is sharing a few tips for designing high-converting landing pages that stand out with vibrant design and audience-specific messaging for an affiliate program.
First, let's discuss what is an affiliate landing page and why do you need it?
An affiliate landing page is ultimately a page where you are persuading an audience to buy or subscribe to your affiliate product or service. This page will help your visitors to decide whether they will take the next step or buy into whatever you are selling.
Your affiliate page can differentiate between the success and failure of your campaign. The best affiliate landing pages are designed in such a way that not only attracts the right visitors but also persuades them to complete the desired action.
A landing page that is clear and concise can easily simplify the process of directing people into your funnel. It will help you to enable your email marketing list or database. It also adds a bonus by giving the visitor a great user experience, which leads to increased conversions.
Basically, there are two types of landing pages:
A lead-generation page that allows people to fill their details

A pre-lander or simple version built around the CTA landing page
Any of the landing pages need to work properly, with the right CTA to turn into profitable long-term customers. And you will be spending less money on other forms of advertising.
Simple design is a good catch
Whatever you are selling, the design needs to be simple, and crisp which strikes in the audience's mind immediately. You can make your page either filled with content or images or both simultaneously.
Don't put too many elements on your page, it can distract the visitor and they will confuse you to take action. The best landing page for CPA offers focuses on the specific aspect and offers the visitor a clear call to action.
Popup your call-to-action
Simple design, focusing on the right message for your affiliate landing page needs a clear call-to-action feature. If your CTA is eye-catching then it will first draw people's attention to it. Either use the contrasting color or change the format of your CTA, so it will be a little different from other pages.
The more content you have on your landing page the more often you should use the CTA button to increase your conversion. Right at the top of your page is a very good place to display CTA action. But you also need to use it at least once within the copy and finally at the bottom.
So that readers get different and easy access to affiliate links on one page. Keep in mind conversion can happen at different points for different visitors. It will be wise if you use short commands for CTA such as "Try for Free", "Get Started", "Learn More", "Join Now" etc.
Focus on a high-conversion marketing message
When you are preparing an affiliate landing page, whatever is your content, it should give a clear message that strikes through the visitors. The message should be appealing and relate to the visitor immediately.
The copy can be appealing to their sense of urgency by offering a limited-time discount or the message should explain how the product will solve the problem of visitors.
If more content is necessary on your page then better to make it a bullet point to engage visitors.
If you are not creative enough to prepare marketing content, be smart by taking the help of AI copywriting tools.
Good production description and engaging headlines can work better for creating a high conversation for the best landing page for CPA offers.
Brevity is more important here rather than verbosity. The mantra should be SIMPLE- SHORT- STRIKING.
An engaging headline can work best
Even an eye-catching design needs a page's striking headline. The headline should highlight the benefit of the product or service you are promoting and be clear and concise.
It is a fact that a headline's primary function is to grab the reader's attention and motivate them to explore more with the landing page.
Add curiosity for readers
Whenever you are preparing content for the best affiliate landing pages your statement should tell the reader how the product or service is going to benefit them or going to change their life.
Add Social Proof
If you want people to take action on your landing page then you have to be credible and trustworthy. And to prove your point you need to add social proof to your landing page.
Social proof is evidence that people found value in your product and service. Include reviews, testimonials, case study posts from social media channels, and video testimonials for endorsements. This will help to generate a crucial trust signal for anyone considering a conversion.
Full optimization is necessary
If you are looking for a high-quality affiliate marketing landing page, then make sure you are including all elements for better optimization. All elements optimization will ensure a great user experience and help to maximise conversions.
Must make your landing page mobile-friendly because Google is also doing mobile-first indexing and mobile optimization for better SERP ranking.
Basically, you need to include trust signals to make your visitors opt-in through CTAs.
Always Monitor, Test, and Experiment
It is your first job to check whether your landing page is fully optimised or not. Either you can do it by using A/B testing or Split testing. This is where you can create more than one version of the landing page to receive better results.
To compare between two different versions you can split your page traffic so that half of your visitors land on one version and the rest on the other version.
The next thing you should measure is the time your visitors spend on your page, the bounce rate, and the conversion rate.
In the end, online marketing or digital marketing is consistently evolving. Every time you enter you will find some new tools and technologies are coming. Therefore when you are preparing your high converting affiliate landing page for CPA offers, you need to keep practising to be a master of it.
Whatever changes may arise, one thing is sure, you have to understand your audience, so that you can create content that resonates with them. Keep experimenting and testing new ideas, so that every time you will improve your landing page with increasing conversion rates.
We at AXAD affiliate marketing offer highly profitable and best affiliate landing page programs. It not only helps to earn better but also helps you to leave your mark on your visitors.
---