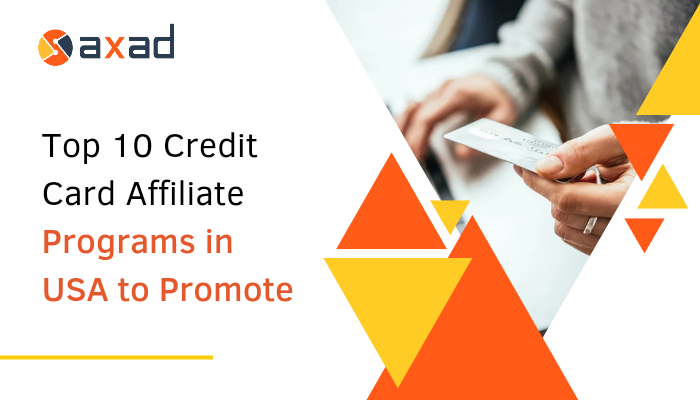 Tips to Choose the Best Credit Card Affiliate Programs in USA to Promote
We'll discuss how to become an affiliate, the top affiliate credit card programme, and available networks.
Despite fewer credit cards in the average American's wallet in 2020, there were 1.06 billion credit cards in use nationwide, a 70% increase in credit card usage overall.
60% of Americans, according to Shift Processing, believe that the United States will eventually become a cashless society. As of the middle of 2019, the American Bankers Association estimated that there were 364 million active credit accounts in the US.
The affiliate marketing sector, on the other hand, had phenomenal growth in the 2010s. A source claims that by 2022, the total amount spent on affiliate marketing is expected to surpass $8.2 billion, more than double what it was in 2017.
How to become a Credit Card Affiliate in USA
Although affiliate promotions are competitive niches yet there are huge commissions if a lead gets converted from your provided link. With the peak in demand, this niche has got space for new affiliate marketers.
We presume that when you read this piece, you already have readers. This means that either you have an established site in a particular niche with relevant content, or you are aware of how to use paid techniques to target the audience (ads)
Finding the best credit card to market to your audience is the first step in getting started with credit card promotion. Your readers may be interested in a card granting frequent flier miles if you operate a travel blog. Marketing a cashback or reward credit card may be a smart move if you operate a dropshipping business. Make sure that whatever you promote can be related to your audience.
The Affiliate Programs
The majority of banks or credit card firms don't offer direct affiliate programmes. But if you are a customer of theirs, they have fantastic referral schemes, such as the Capital One Quicksilver or the Chase Sapphire (both cards I use and recommend!
Normally, you may sign up for several credit card affiliate networks and programmes with which these banks/businesses have associated. Some companies provide credit cards across various networks.
I've examined more than ten of these networks and programmes in this article, and you can join any of them. The eligibility conditions, commission structure, and advantages and disadvantages vary in every programme and network.
Now let's search the blog for the best credit card to advertise.
What Exactly Is A Credit Card Affiliate Program?
It's a method of collaborating with banks or credit card firms. By representing a third party and promoting their credit cards to your audience of potential customers, you can make money through an affiliate programme every time one of your suggested site visitors is approved for a credit card.
Some affiliate networks pay per lead, meaning you receive a modest commission when a visitor you recommended fills out an application. Whether or whether they are eligible for the credit card.
What Makes A Good Affiliate Program For Credit Cards?
There are a few things that determine whether an affiliate programme is worthwhile to join or not.
Lucrative Payouts:
The type of credit card and the intended market affect commissions. $25 to $100 is the norm. The Luxury Credit Card, however, has a cap of $405 per accepted lead.
There are affiliate networks that operate on a pay-per-lead basis. For instance, even if a person doesn't qualify for the card, they will still receive a payment if they fill out a form.
Typically, commissions are paid only once. No affiliate scheme that I am aware of gives ongoing commissions on credit cards.
Lower Payment Threshold:
It is preferable to choose affiliate programmes with lower payment thresholds. Although it should only be taken into account at first.
Assume that the minimum payout requirement is $100 and that the programme pays you $25 for each referral. Only once you have made $100 through 4 clients may you submit a withdrawal request.
Therefore, the lower the minimum, the sooner you can receive your funds.
Provision Of Marketing Tools:
The majority of credit card affiliate programmes give you marketing resources and tools to make your life easier. That could consist of:
send email swipe files to your lists.
infographics, photos you may post on your website, and other creatives that inform your visitors about a certain credit card.
Various ad formats to display on your websites, blogs, etc.
For your audience to learn how to choose the best card for themselves, use educational resources like films or courses.
Affiliate Support:
You will be given access to an affiliate dashboard once you are accepted into the programme. You may monitor all the statistics, including clicks, sign-ups, commissions earned, and the status of payouts, from that point.
Some affiliate networks give you access to an affiliate manager who may advise you on which cards to promote based on your target market and the best marketing strategies.
Longer Cookie Duration:
A cookie is released when a potential customer clicks on your link to go to a credit card website. You will receive a payment if they return later on in the cookie period and make a purchase even though they didn't do it on the same day.
The affiliate programme cookie lifespan might be anywhere from seven days to a year. There are more opportunities for you to make money the longer the cookie period.
Offer Credit Cards That Suit Your Audience:
Make sure the affiliate programme provides credit cards, which should appeal to a wide spectrum of customers and, most importantly, should pique the curiosity of website visitors.
Hundreds of credit cards are awaiting promotion. But not every card will pique the curiosity of your viewers. A card that offers frequent flier miles can be combined with a travel blog. Aim to promote things that your audience can relate to.
Credit Card Affiliate Program VS Credit Card Affiliate Network
What distinguishes an affiliate network from an affiliate program? This could be a little challenging. Let me clarify. Credit card companies/banks that wish to recruit affiliates to help them deliver customers who can purchase their credit cards set up their own affiliate programs. In exchange, the affiliates receive a commission.
All credit card providers have their own affiliate programs, but to promote their offerings, the majority of them also sign up with one or more credit card affiliate networks.
For instance, you must sign up for a network like Commission Soup or Flex Offers in order to advertise the American Express credit card.
On the other hand, a credit card affiliate network is a place where numerous credit card affiliate programs and affiliates can meet and begin collaborating.
In exchange for acting as a middleman and collecting a commission, an affiliate network functions as a conduit between credit card affiliates and credit card affiliate programs.
Affiliate programs include those for American Express and Open Sky.
Affiliate networks, such as Flex Offers, Bank Rate Credit Cards, and Commission Soup.
Rundown
Hope this has been of great interest to you. Earning is not a big deal but multiplying that money is. Choose from these credit card affiliate programs in USA and make a high income. Read also our Credit Repair Affiliate Programs in USA blog.
---