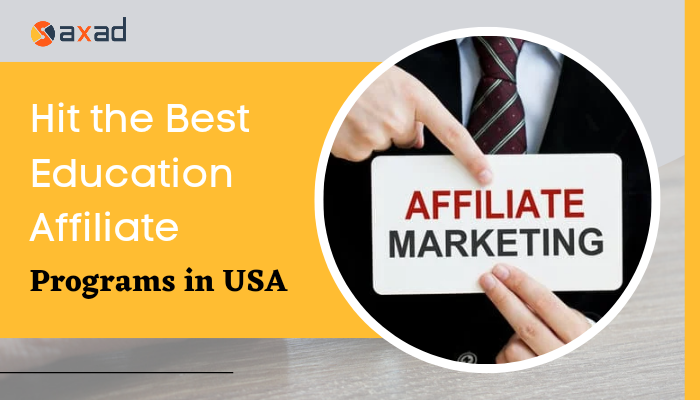 Every year, 2.9 million new students enroll in college, joining the 19 million current students. Every year, an additional 50 million youngsters attend primary and secondary schools.
This equates to nearly one-seventh of the US population, and this does not include the online education sector, which is currently valued at least US$169 billion.
Even modest affiliates in The Affiliate Lab community are making good and consistent commissions on various educational goods. Education affiliate programs in USA can make the best source of extra earnings even if you are a student.
Education is a large market with numerous intriguing sub-niches that we've identified for you, as well as some of the best education affiliate programs accessible.
Are you Searching for Education Affiliate Programs in USA?
Let's flick through the top ten education affiliate programs in USA -
1. 360training Affiliate Program
360 Training is an online learning platform that offers everything from basic workforce training to OSHA certification for the food and beverage industry.
In industries where satisfying specific compliance criteria is required, they could be your "go-to" education source. Over 6 million students have completed at least one of their pre-license, exam prep, or post-license courses so far.
They're also willing to offer you a 15% commission on all sales led to them through your affiliate website. So, based on a $200 average course cost, you'd make $30 per sale.
2. Times Tales Affiliate Program
Children who are learning their timetables for the first time may struggle. Times Tales makes it easier for children to learn by using stories rather than rote learning. The tale is a "memory game" in which they can recollect their tables whenever they need to.
Times Tales also sells additional educational products for children such as 'Pet Match' and a full set of 'Life Skills' products targeted at teaching math in a fun and approachable way. Their affiliate program pays a 15% compensation rate, with an average sale earning roughly $10.
3. Outschool Affiliate Program
Our School takes the concept of distance education to the next level. Not only can your children be homeschooled in a wide range of disciplines, but they also have access to over 10,000 trained teachers worldwide.
As a result, they could study Italian with an Italian tutor. Class sizes are also kept small so that students aged 3 to 18 can get the most out of their teacher.
This allows parents to create a school routine that works for them rather than the other way around. Their affiliate marketing program pays 10% of all sales directed to their landing pages from your website.
4. The Linux Foundation Affiliate Program
The Linux Foundation comes next on our list of education affiliate programs. Their certification courses, as the name implies, provide Linux OS instruction for people seeking to become system administrators or Linux Engineers.
However, they also provide courses that cover the entire spectrum of Open Source technologies, from Blockchain to Machine Learning, artificial intelligence, and data science - all taught by highly experienced educators.
They provide the types of courses that your visitors will require in order to be considered for employment chances with many of the world's best technology businesses.
The Linux Foundation's average course costs around $400, and you receive a 20 filiate commission on all sales made through the referral link on your affiliate website. This means you can earn $80 or more per sale, which is more than some credit card affiliate programs offer.
5. Bionic Turtle Affiliate Program
Bionic Turtle offers online courses and exam prep materials to help people pass their Chartered Financial Analyst (CFA) or Financial Risk Management (FRM) exams. Students have access to instructional videos, test question sets, interactive quizzes, and a community dedicated to assisting them in achieving a passing grade.
They also provide a free trial, which you can use in your affiliate pitch to your target demographic. Some of their courses cost nearly $800, with a 20% commission rate earning you $120 per referral. By payout, it is one of the best education affiliate programs in USA on this list.
6. The Princeton Review Affiliate Program
The Princeton Review is an exam and test prep company that assists students in passing the admissions exams for their selected school, college, or university, including medical and law schools.Or simply pass their SAT at the end of high school.
So you can point your visitors in the right direction if they need to take the MCAT, LSAT, CFA, or GMAT, among other exams. They are not affiliated with Princeton University, but they do cater to a professional audience. It is one of the easiest and best ways to earn through online education affiliate programs in USA.
7. One Day University Affiliate Program
One Day University would organize conferences in the 12 years leading up to 2020 that would include a series of live speaking events by some of the best and brightest minds in various fields.
They moved their courses online, so the experience is similar to attending a TED or TEDx event, with the exception that you can choose to attend more in-depth talks with your favorite professors, lecturers, or educators. Their library currently has over 500 different "lessons," all of which are available for less than $10 per month.
They have one of the two-tier affiliate programs for education in USA in which you get paid $1 for each person who signs up for a free trial and $9 for each person who signs up for full monthly membership.
8. MasterClass Affiliate Program
A masterClass is a learning platform that offers online courses from over 100 of the world's top professionals in a variety of fields and topics. It is one of the best affiliate programs for education in USA.
As a result, aspiring novelists have the option of studying with James Patterson, outdoor survival with Jessie Krebs, or cookery with Gordon Ramsay. Each session takes an average of 10 minutes to complete, allowing you to learn new abilities at your own speed. And your visitors have access to their complete course catalog for a single monthly fee that is payable annually.
Affiliate marketers who promote this offer will earn a 25% commission on all sales referred via their affiliate website, with an average payout of slightly more than $44.
9. TEFL Academy Affiliate Program
The TEFL Academy is a little different in terms of education affiliate programs you can promote. A TEFL instructor's job is to prepare pupils to speak proficient English, either in person or online.
The TEFL Academy offers two Level 5 course options: one with in-person tutoring and one that is entirely online. And the fact that their course has over 4,000 positive reviews speaks volumes about the quality of their training.
Affiliates who promote this offer will receive a 10% commission on all sales. So, based on a $245 average order value, you should anticipate earning about $24 for each sale.
10. Kids Britannica Affiliate Program
The first edition of the Encyclopedia Britannica was published in 1768, 253 years ago. Britannica Kids is the most recent version of the world's oldest encyclopedia, and it provides child-friendly and age-appropriate instruction through this innovative online learning platform.
More than 130,000 articles, videos, and photos organized and fact-checked by expert educators are available to children and parents.This is then coupled with courses and projects to provide eager young minds with an engaging educational experience.
With a 4% commission rate, you'll only get about $4 for each sale, so you'll need to push this offer alongside others if you want to keep your site profitable.
Rundown
Hope these education affiliate programs in USA help you out in making the best choice for you to earn better. Make great earnings, by choosing any of the programs in the educational sector.
At Axad, you won't just get the educational affiliate programs but the best affiliate programs in all the other domains too—health, debt settlement, insurance and many more. Check out current trending offers on Axad.com and stay updated on our social media platform.
---