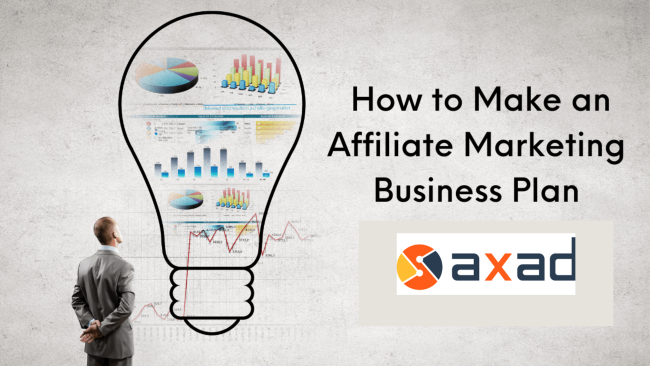 In the market, there are many options available for both small and big businesses to market their products and services. To consider which one is the most profitable you need to check on all. Among all profitable ones, affiliate marketing is the best way for product creators to sell more products. Whether you are working as a creator or promoter, working with a reputable affiliate marketing agency will increase your success chances. To know more you can contact AXAD, one leading affiliate marketing agency that can assist you best with an affiliate business.
What is affiliate marketing?
If you have a product or service to sell and want to enhance your sales without spending more money on promoting it, you can look for an affiliate marketing business. In return, affiliates get a commission on each sale that is traced back to their website ad or social media posts.
If you don't have a product or service to sell and you want to start earning passive income, you can promote other people's products and services. It helps to earn a commission on the sale that materializes as a result of your marketing.
There are three parties mainly involved with Affiliate marketing business agencies:
The

product creator

has exclusive rights to sell the products or services. A product creator can be a manufacturer or someone with exclusive rights to sell the product or service. The brand, retailer, vendor, or merchant is responsible for supplying products and services. They are also responsible for shipping, storage, guarantees, and sale after services.

The

affiliate marketer or the promoter who is also known in the market as a publisher, advertiser, or affiliate can promote the product or service. The promoter can try to drive customers' interest from its website, social media profile, or blog to the product's website or sales page, with the hope that some of the visitors will buy the product in the end.


One product or multiple products can be promoted by the affiliate. An affiliate can be a solo entrepreneur or can work for many big companies. An affiliate can sometimes have a dedicated website for a specific category or product or services available from different sellers.

The

consumer

, user, and customer can complete the affiliate marketing business triangle mode. If the customer is not there then there is no question of selling, buying, or receiving any revenue or commission. For a successful

business affiliate program

, both the product creator and promoter should focus on delivering customer satisfaction and trust.
Affiliate marketing business network
Every business affiliate program needs a digital platform or network to get off the ground. A network works as an intermediary between the seller and the affiliate. On this platform, companies can display their programs and promoters to select the offers they want to advertise. A seller can decide to work through a specific network several times. And in other times a promoter can finalize the commission and other details with the seller and leave the product delivery, commission calculation, and payment to the affiliate marketing network. Through the network, technology can track links and calculate and reimburse commission. The network charges a monthly fee for its services that sometimes depends on the number of visitors that visit the subscriber's website.
What is the role of an affiliate marketing agency?
In affiliate marketing, a seller and the promoter are playing the lead role. Both need customers to earn revenues and commissions. In the affiliate marketing network, you will find smooth platforms and services to work in a hassle-free manner. If you are looking for the importance of an affiliate marketing agency's role then at AXAD we can say you it will help both the seller and the promoter to connect with customers.
Here are a few reasons what AXAD things worthy to work with an affiliate marketing agency as a seller and promoter:
An affiliate marketing agency for sellers
The business affiliate program's success depends upon the product or service. An affiliate marketing agency like AXAD can help sellers, creators, or brands to come up with great products and help in selling them to their affiliate partners.
If you want to know how it works then check:
Find compelling ideas
First, you have to create product idea generation. AXAD will work with you for finding compelling product or service ideas. Such as:
Have sessions with your staff and potential customers
Work on the latest consumer trend research to get the best product categories

Go through existing product customer reviews to find out where you need improvements

Research on crow-funding platforms to check on other investors' activities
Let validate your idea
Once your idea is finalized and gets clientele approval, AXAD will help you to validate it through customer testing and interviews before investing in that idea in a practical manner. It will ensure that you don't end up building sand castles where there are no buyers. Here you can question yourself:
Is it right to make this product?

Who will be the customer for this product?

How much will the customer pay for this product?

What are the most valuable features that consumers likes?

Are better products available in the market?
Develop your affiliate product
You need to follow the three-step process for product development. Here in every step, you need customer feedback. AXAD will help you to do smaller and quicker iterations to lessen your effort waste. So that you can ensure that building the product that customers will definitely go to pay for.
Do marketing for affiliate product
How good the product won't sell if you don't promote it. It all depends upon how you are going to present it. An affiliate marketing agency will create the messaging and design that complements your product and makes it easy to understand for affiliates and end users.
Your affiliate business product strategy includes web design, sales funnel design, product photography, copywriting, SEO, conversion optimization, social media marketing, lead generation, email campaigns, etc. Here the goal is to build trust and make the value stand, for which you will find the best affiliates to promote your offer eagerly.
Get affiliates
Now as your product is ready to be sold, you need to find affiliates. Therefore, list your product with one of the affiliate business networks and marketers will flock around your offer. The only challenge you are going to face here is to find specialisation in selling products like yours.
AXAD as an affiliate marketing agency will utilize its networks and do in-depth online research to connect you with its best marketers and influencers. Here AXAD will work as a connector between your products and affiliate marketers, bringing near you lucrative and promising deals, negotiating commissions, and suggesting the best tools
Affiliate Marketing Agency for Promoters
Working with an affiliate marketing company can save you from unnecessary expenses and headaches. With millions of affiliate products out there, an affiliate marketer should avoid wasting their efforts on the wrong product. So a marketing company can help you take better decisions based on their past experience and market research. Here is what AXAD provides you:
Selecting affiliate product
The affiliate marketer needs a great product to build a successful business. You can find tons of products to promote by searching on affiliate business networks. As per successful affiliate marketers, you should select a product that you believe in, rather than merely choosing one that pays more money.
As your affiliate marketing agency, AXAD will help you to select a product or portfolio of products that match your experience, social circle, and personality. The team will research the better products for you, learning about their strengths and weaknesses and evaluating if they will be a good fit.
Creative strategy
Never proceed without having a plan. It is like starting a journey without any milestones. After evaluating and researching the products, we come up with targeted messaging to communicate the value to the audience. AXAD team will use appropriate tools to discover your audience and draw your ideal customer's profile. We include the strategies like including your goals, channel selection, messaging design, and evaluating metrics.
Look for blogging and product reviews
Qualified bloggers can drive qualified buyers to affiliate product pages. If you are not a blogger you can hire one professional blogger and reviewer to target a specific sector or a single product.
Set your digital presence
An affiliate marketer builds trust and seems credible through the website and social media profiles. So working with an affiliate marketing business agency, you need to sit back and relax as AXAD will establish a native online presence for your products and brand. AXAD has a team of the best developers and designers and social media marketers to create your impressive digital presence to market different products.
Email Marketing
Only those products will get a longer sales cycle and are highly involved. As an affiliate marketing company, AXAD will configure your website to capture email subscriptions and follows up with the subscribers through automated email marketing campaigns.
Search Engine Optimization
Search engine optimization can place your website and products in the line of sight of millions of online searchers looking for products like yours. AXAD will select the best keywords to target and optimize your website and content for those keywords. It will help to gain better results for which you will see your site appear higher when a customer searches on Google for the keywords.
Google Ads campaigns
When you do pay-per-click advertising through Google Ads you will get quick sales in your SEO efforts. Here you have to consider your earnings per sale. As your digital marketing agency, AXAD will calculate the relevant metrics along with cost per click, conversion rate, and commission per sale before advising you whether Google Ads is a suitable option for you or not. You can even plan and execute PPC campaign targets if the number is growing in your favor.
Affiliate marketing tools
Today affiliate marketing business is all about choosing the right tool. With advanced marketing technology, you can research the market, go for testing new products and get new ideas, plan and execute campaigns, and can easily capture and nurture leads, along with that monitor the results of your marketing efforts.
AXAD uses the best available tools for customer discovery, testing, prototyping, email management, social media, tracking, and analytics. Creators and promoters can focus on more important things as AXAD automate most of their marketing of them.
Why do you need an AXAD affiliate marketing agency?
If you want to earn a handsome passive income but know little about affiliate marketing business, then your best option is to work with an agency. So connect with AXAD. As an affiliate marketing company, AXAD will help to increase the chances of your success by providing technical and marketing expertise.
---