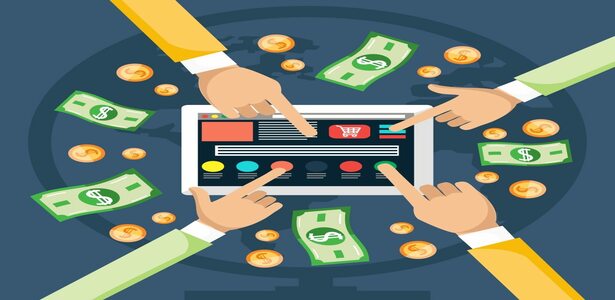 The Internet is an inevitable part of our lives. A single day without it is simply impossible. It is a fact that even it shapes our decision-making process in numerous ways, don't you agree? One can earn more than his/her expenditures on the internet and those who are well versed with the tactics of gaining the trust of internet users are poised to profit from the same.
Affiliate marketing is one such tactic of leveraging the online influence commanded by an individual or organization. This marketing technique is helping a lot to earn extra in the freelancing world. No timely work, no office, no extra expenditure, all you need is a fair bit of online skills to influence people. You can use various strategies to perform your actions to generate your affiliate traffic.
AXAD as one of the digital marketing companies for brand awareness is going to introduce you to the exciting world of affiliate marketing. Let's concentrate here on how affiliate marketing is working, and what are the best practices that help in brand building.
Affiliate marketing is a process where an individual promotes the products or services to a set of prospective customers in exchange for a commission from the seller. Affiliate marketing is like an onion, you need to peel it layer by layer to understand more about it.
Who can do affiliate marketing?
Anybody can be an affiliate. It can be an individual, a company, or a group. The job of an affiliate is to persuade and influence the decision of consumers and compel them appealingly to buy their service or product. The persuasion is adding value to the consumer through the said product or service being promoted. Here the end goal is to convince them in favour of the product or service. Once the consumer ends up buying the product, it gives the opportunity to the affiliate to earn their share of the profit.
AXAD promotes products based on the interests of the target audience, to ensure better conversions.
How to generate revenue?
Affiliate marketing is one such influencer marketing that works fast, inexpensive and effective way to make money, barring all hassles such as working for someone else, worrying about customer feedback, etc. However, the question still remains here as to how exactly does the revenue come by?
There are multiple ways an affiliate can earn its commission. It always need not be through customers' buying product or service only. An affiliate can earn through:
Pay per sale

strategy. This strategy involves paying a commission to the affiliate by the seller in terms of a percentage of the selling price of the product/service promotion.

Pay per lead

strategy helps to drive the lead conversion. Here the job of the publisher is to lead the consumer to the seller's website to make them complete the desired action. And the desired action can be a trial, newsletter subscription, filling the contact form or downloading some software, etc.

Pay per click is the strategy for redirecting the consumer to the merchant's website. With this strategy, the affiliate's actions compel the consumer to move from the affiliate's platform to the merchant's website. In simple language, the merchant pays the affiliate to help increase the traffic on their website.


Do you want to be an affiliate? If yes then why?
Cost-efficacy:

This influencer marketing requires only a little investment to start from.

Passive income:

Earing means getting a job and the job needs you to be at work either physically or virtually. However, at affiliate marketing, you have the freedom of morning from anywhere. Even by doing your job, you can earn it as passive income. All you need is a fixed investment in the form of your time that fetches results for a longer time.

Flexible:

Affiliate marketing gives you the freedom and independence to plan and set your goals. You can market your interest-binding products and even set the desired work schedule. YOu can plan your portfolio at your convenience.

Performance-based rewards:

Your affiliate marketing compensation purely depends on your performance. you will get paid for the work that you do. There is no fixed salary nor fix timings here.

Organic traffic:

You should aim for your quality rather than the quantity of gathering affiliate traffic. If you follow a systematic SEO, then only you will get organic traffic. Therefore you need to have a good understanding of SEO and digital marketing.
What are the best practices of affiliate marketing?
Create fresh content
Content is the only thread that connects to a blogger, a social media influencer, or a website owner in affiliate marketing. Your content needs to influence and persuade prospective consumers to invest in a product or service. Always adding fresh content to your respective platform is the best way to keep your audience engaged. The more appealing content means, the influx of more quality traffic generation. Therefore always making fresh and creative content is the best practice of affiliate marketing.
Detail research
More exploration and rigorous research are what is expected from you in affiliate marketing. People's tastes are changing with changing time. Therefore you need to research more and more. Affiliate marketing is a time-intensive business. This is the reason why you should go with detailed research and must ensure a profitable business.
Save, Re-invest, Outsource
As an affiliate, you need to save up your initial profits. In a later stage, you need those savings to re-invest in your growing business to increase the profit even higher. Now you need to outsource. Do the practice of relegating excess work to outside professionals. It will help to expand your business and turn on your profits. You can hire expert developers, with part-time or full-time assistance.
Stay Focused
In this digital marketing field, you need to be consistent and show your sustainable effort is your utmost importance. You will never achieve success overnight, it needs time. Therefore getting a sustainable target audience is what you need to focus on with patience. You need to stay put and wait for results because when they do come, they will be worth it.
AXAD tips for you to achieve success in affiliate marketing
Develop a strong relationship with your audience.

Your audience is your top priority, so focus more on the quality audience instead of quantity.
Promote quality-worthy products and services to add value to your audience's life.
Focus more on conversion rate rather than commission.
Review products and services regularly to leverage the trust between you and your audience.
Keep track of user engagement on your platforms to understand what content works.
Stay on top of new trends to stand out in the ever-increasing competition.
Don't break the rules in the realm of affiliate marketing.
Don't make false claims about the products and services that hurt the image of the brand.
Final Thought
Now you must have familiar with the necessary know-how about affiliate marketing. Now onwards you need to add perfection to it. You need to strengthen your journey. Affiliate marketing is all about the trust between you and your audience. It requires your attention because it depends on consistency and commitment. Once you find your footing, the returns will definitely keep on increasing.
---