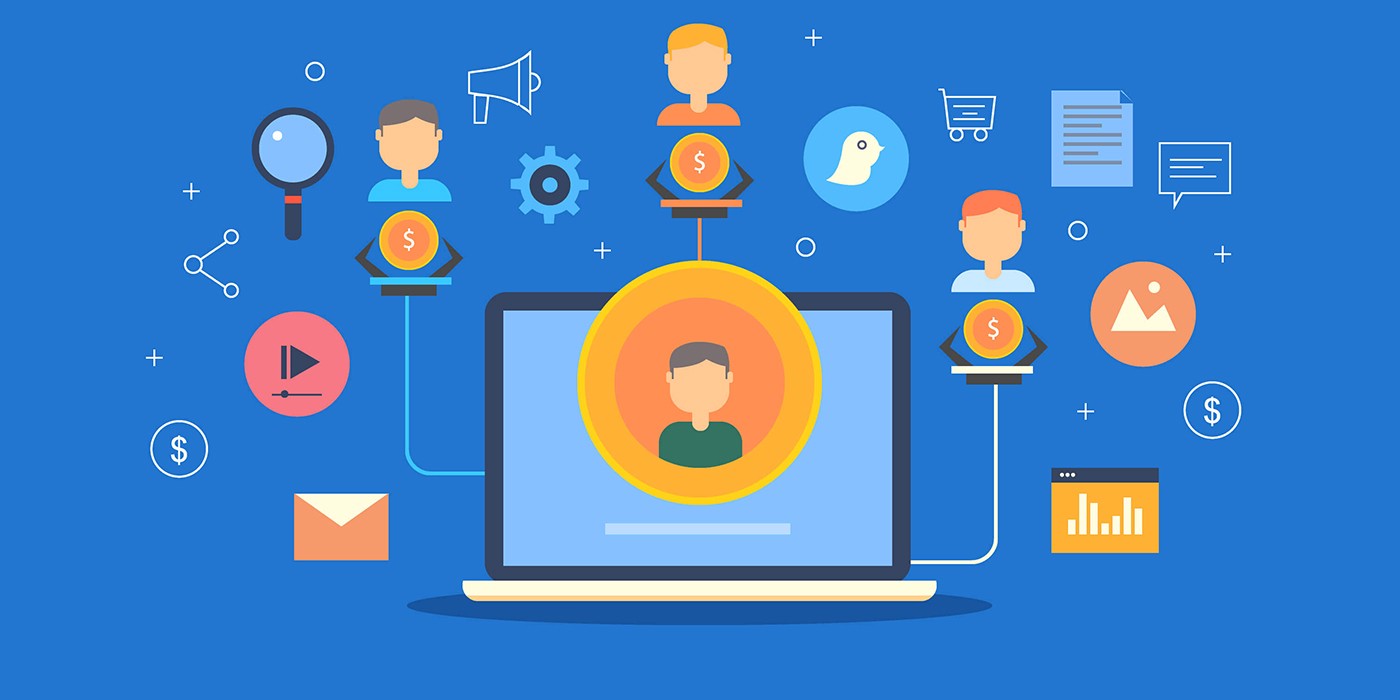 Online business means a digital marketing strategy is a must for advertising and branding. Affiliate marketing is one of the digital marketing strategies that most people are adopting to earn extra income nowadays. In an affiliate marketing program, the affiliate places links to your business on your website, in blogs, and on social media pages. When someone makes a purchase through an affiliate link then you have to pay a commission to these affiliates.
This concept seems very simple but in a practical sense starting and running a successful affiliate program is a bit challenging. Because all you need is to find and train the right affiliate, you have to decide on the right commission and have to track their success. You need to ensure that your chosen affiliates will follow your program's rules.
How to know which best affiliate marketing programs are right for your online business?
Whatever may be your product or service, you need to find the perfect affiliate marketing program that works for you. Affiliate programs are relatively niche, though- your company must meet several standards for an affiliate program to work. Things you need to keep in mind:
An affiliate marketing program will work well when you want others to promote your business on their own channels to drive traffic directly to your website.

You need to pay affiliates with a cash commission or provide store credit every time they make your sale.

When your company has high customer retention rates, then your affiliate programs come out as the best with the paid commission on every single sale.

In an affiliate marketing program, you can offer higher commission payouts without spending as much money on customer acquisition costs. It will help to entice higher-quality affiliates to join your program.

Till now as per an online marketing survey, affiliates work best in the business like e-commerce, Beauty, Apparel, Technology, Health and Subscription.
Affiliates run your program and reach to those people they don't personally know but when you are letting your customers promote your products to individuals they personally know, then you can go for the referral program. Even affiliate programs are different from influencer programs. Influencers are like authorities with whom the online crowd builds a relationship. Influencers show authenticity in a larger way while generating direct sales. And influencers are paid by campaign rather than by commission-per-sale.
Steps to include within your best affiliate marketing programs to achieve success:
When you have selected the right affiliate marketing program for your business then you can start following the steps provided by AXAD experts to set goals for your affiliate program.
Consider your program goals:
First, you have to consider what your customer types are, and who you are

targeting for your online product and services

.

You have to set your goal for the revenue amount you would like affiliates to bring in per month, per quarter, or per year.

Set your conversion rates as per your goals.

Set a goal for the average order value driven by affiliates.

Consider setting goals for the number of unique affiliate sales in a given time period.

Work on goals for the impressions, clicks, and leads you would like affiliates to bring in with the timeframe.


Analyze your affiliate program competitors
When you are analyzing your business strategies with your competitors then you can realize what are your actual business strengths and weaknesses. Something you have to do here with the affiliate marketing program. Check AXAD expert tips on how you can run an affiliate program competitive analysis:
Find more competitors for better analysis. If you are unable to do so then at least work on two competitors with affiliate programs.

What actions you are including with every affiliate commission payout.

Check affiliates paid a percentage of what was on the sale as a commission, or a set amount for each action.

Check whether affiliates paid in cash or in credits to use for the brands' products.
Check how each brand's commission rate stacks up?
Whether each brand commission is high or low compared to other program commissions.
How is each brand finding its affiliates?
Does each brand recruit affiliates on its own or has it been done through an affiliate network?

Do affiliates need to submit any acceptance applications?

How rigorous is the process of application?
Find each affiliate program's terms and conditions
How does each brand post its affiliate links?

How do brands allow affiliates to promote their product or service links?

What an affiliate can do or can't do within a given program?
Do some digging on competitor program details
What kind of training is provided for affiliates for each brand?

What brand provides affiliates in the matter of promotional and branding resources?

How does each brand communicate with affiliates?

How does affiliate tracking cookies used by a brand?

Do cookies utilize for tracing a sale back to an affiliate?

How long do the cookies stay active?
SWOT Analysis
What are the strengths and weaknesses of each program?

What opportunities could you take advantage of?

What threats might each competing program post to your own affiliate program?
Decide the right affiliate commission
Your competitive analysis can help you in structuring your own affiliate program. Your important design choices can be your commission structure.
You should only compensate an affiliate if a sale is made through their affiliate link. You need to decide how much amount or percentage you should consider for each sale affiliates make. Then decide on the exact commission you are offering to affiliates. Now here you don't blindly follow your competitors' strategies, take care of your company's own needs. Consider your customer acquisition costs, your retention rate, and customer lifetime value.
Check other key aspects of your program structure
Make your affiliates promote and distribute their affiliate links

See which marketing channels affiliates can use

Check the eligibility of the affiliates to earn a commission after someone click on their affiliate links.

Find different terms and conditions to make the inclusion of your affiliate program

Make your affiliate program stand out, compared to competitor programs

Include a dedicated affiliate manager for your program
Find your affiliates
Now it is up to you to decide whether you will select your own affiliate network or use an existing network of affiliates such as AXAD.
An existing affiliate network helps you to build up a fast base of representatives. It will help you to quickly be in a relationship with top affiliates in your niche. It will help to nurture your relationship with affiliates. You may not like the charges sometimes. But it is up to you. Whether you want to set your commissions and affiliates or choose the existing one.
You want to open your affiliate application on your website, then promote the affiliate program and let potential affiliates come into you. Screen them as per your requirements and see how well their niche and audience match yours.
Train your affiliate team
Be sure to screen potential affiliates manually and with business intelligence tools. Select best-fit affiliates and prepare a team.
After you recruit affiliates, brief them on your program's terms and conditions and have them sign an agreement to abide by these rules. Train your affiliates on brand and program fundamentals, give them unique affiliate links, and supply them with promotional resources. Do regular checks on their progress.
Keep track of your affiliate marketing program
Once you start your affiliate marketing program, you need a regular track to measure its success. Either you can do this through affiliate program software or through the affiliate network you have signed up for.
Check on which affiliate brings the most sales. Keep track of how well your affiliate program is meeting the measurable goals you set during planning, along with unique sales strategy, conversion rates, revenue amount, and AOV. If all these things are not meeting your goals then you need to rethink your affiliates' selection or have to line them in different ways.
Final Thought
Now as if you have landed affiliate program success through this AXAD blog, now get ready to start a program of your own. After reading the full blog, check the competitive landscape, and design a program that sets your brand apart in the affiliates' eyes with attractive commission. Find and recruit the right affiliates, who will help your brand reach sales goals.
If you are looking for an affiliate network then AXAD affiliate marketing offers the best affiliate marketing programs. Here you will get a flexible approach with cost-efficacy, easy to manage, and has a positive impact on your business and brand as a whole. AXAD affiliate marketing provides opportunities for all companies, whether you are a start-up with a limited budget, or a well-established brand looking for new methods of exposing your brand to more people.
---