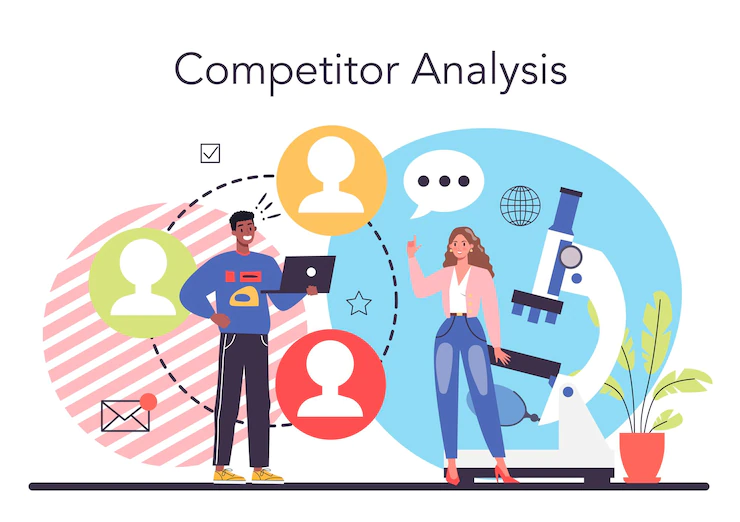 If you want to excel in your business then must include golden marketing plans within your strategies. One among them is Competitive research. It is an excellent way to define your company's position against a competing brand. It also helps you to know other market players' strengths and weaknesses.
Understanding competitor analysis is defined as the process of researching and analysing the marketing strategies of the companies operating in a given market.
Benefits of competitor analysis
The analysis will help you to remain focused and look forward. You can revise your strategy and make sure it works.
It helps the business to understand how they can improve by better serving their customers, based on customer feedback from other competing businesses in their market.
By understanding the regular competitive analysis, you can easily find out the competitive vulnerabilities and see new threats and opportunities.
Know your competitors
In the online market, you will find a wide range of competitors from various windows. You need to understand their significance. You have to recognize what they are planning to achieve. Now find out who are your competitors:
Know through customers:
People don't stick to one service, sometimes they look for alternatives. So by discussing with your existing potential customers you can understand from their point of view, from their behaviours get the wider competitive landscape.
Do desk research
You need to go through feature articles and industry trend reports to understand your horizon. It will help you to stay ahead of your competitors and let you lead the market.
Online tools
Digital tools can help you to find out your competitor lists. Through Google Trends, and Maps you can find out local rivals and the social media channels help to find out brand mentions based on any search query.
Find out your direct competitors
They are the competitors who first come to your mind. Basically, they are doing the same job as you do and you can find them in your neighbourhood, marketing products, and services.
Find out your indirect competitors
These competitors are addressing the same customer needs as your business does. Your target audience may overlap with theirs however, it won't be an exact match.
Substitute competitors
Here the competitors do a competition for the same product and services at the same time.
New entrants
Who are emerging in the market are also your competitors. Try to keep as broad a view of the competitive landscape as you can. It will help to understand the context in which you can operate better, however, you have to learn more.
Different aspects of competitive analysis:
Check the target audience of your competitors

Liking and disliking the product, service, and brand.

When do people use them, on any occasion or under particular circumstances?

How much is the customer spending?

What is in customers' minds when it comes to buying or selling a product or service.

Check out how does this stand up against you

You need to understand first, what are the things you already know and what are the things you don't know yet.
How to perform competitive analysis?
Competitive analysis is gathering information for four business areas for better concentration.
You need to check the company core numbers which are associated with your business. You can group them into different sections like revenue, customers, funding, and basic. At a later stage, you can include information like locations, employees, and C-suite executives through different sources like Linkedin and many more.
You need to understand our competitors' products and services, it will help you find market differentiation for your brand. You need to check out what your competitor is selling, what is their USP, and what are the key features and the utilised technologies.
After that, you can go for quantitative details such as how much their product costs? Do they offer more packages than you?
Target your Market and Customer
Do you need to target your competitors, and what they are selling? Do they have the same customers as you? Most social listening and competitor analysis tools can track this for you.
By watching competitors' voice share or sentiment rankings stack up to yours. So that you can track a range of competitors.
Marketing strategy includes many areas to cover up for searching the real competitors. Such as advertising, social media marketing, influencer marketing, content marketing, search engine optimization, and lead handling.
At the pre-launching, for the new product, a new brand, or next campaign planning know exactly where you stand in the market. The current market position of yours will help to maintain a realistic view of your marketing strategy. What more you want to achieve, you can get ideas from here.
Competitive market research is not only a valuable way to pinpoint your current market position but also a tool for unfolding your business potential. It will help you to make a comparison of your company with competitors' outlining strengths, key selling points, weaknesses, and differences.
Based on this information, you can gain powerful insight into market opportunities and strategic changes required by your audience. You can also understand what your target market responds well to and what issues you need to address.
Competitive market research is included among the most crucial information-gathering initiatives for a business to perform. Still conduct in the right way and use it to improve your marketing strategy. Here you should know what data you need to search for and how to use it.
Your competitors' relevant information can help to keep your strategic goals in mind. This will help you use the gathered data to come up with new ideas, develop critical thinking, understand your customers' behavioural patterns, and think of powerful growth hacks to break through the competition and become a successful market leader.
---