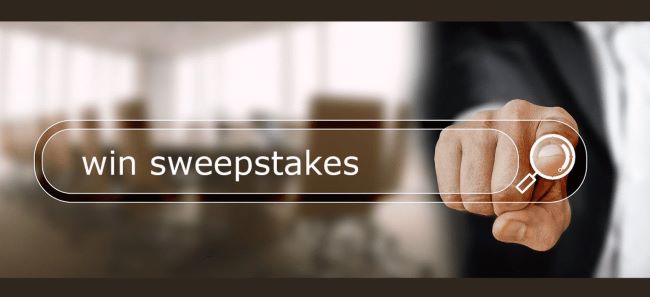 Sweepstakes, the most evergreen vertical in affiliate marketing, is still a top performer. The best thing about sweepstakes is that it is easy to set up with a low-cost method and with excellent visible results. A newbie can easily understand it and utilize it for online advertising. However, beginners need to follow a different kind of sweepstake optimization in comparison to expert ones. If you want to learn how to advertise sweepstakes using the latest trends from marketing pros, then AXAD affiliate marketing firm is offering you a few tips in this post.
Lots of advertisers willingly collect users' data to target their campaigns accurately. Sweeps are mostly used for getting information about users in exchange for giving them a chance to enter contests to win money or to win valuable products.
Types of conversions you can use in Sweeps campaigns
You can divide all advertising offers into different groups as per their actions which they require users to perform effectively. It will also help you to understand how difficult it is to convert the users to promote sweepstakes offers:
SOI- Single Opt-in Offers


SOI offers require users to perform one simple action. That is entering their email address and their first name. As per traditional advertising, personal data are important for Tier-1 advertisers.

DOI-Double Opt-in Offers


This offer makes users perform some form of two-step authentication. Usually, it has a lower conversion rate while, in turn, each conversion is the most profitable one.

CC Submit- Credit card submission


It is one of the most challenging offers to convert. Because here one has to enter their credit card information. It requires payment and may just provide a free trial of a product.

PIN Submit-Mobile Carrier offers


In this offer, the conversion flow does not need credit card submission. Here mobile operators charge users, So you need to submit their PINs.The offered range for this offer is very impressive.
Why are Sweepstakes still effective marketing tools?
There are many reasons to give Sweepstakes websites the most deserving marketing tool in the advertising world. Very first, it works as an opportunity to gain free stuff that allures many. Secondly, it is a game of chance to attract people and make them willing to take a risk.

Users are encouraged in companies to indulge and enter the contest to gain visibility, enlarge their mailing list, promoting their website and social media by conducting necessary market research.

In Affiliate marketing who are willing to profit from advertising, Sweepstakes need to choose the right offer and the suitable campaign method to benefit from sweepstakes. But one needs to consider all the conditions like GEO platform, appropriate conversion flow, etc.
Popular Sweepstakes advertising trends
Tiered Pricing
In this strategy the more people registered, the better prizes will be involved in the contest. Contestants to win money are encouraged to share their information and share the Sweepstakes on social media by engaging their friends and family.


It is a fact that the more you spend the more you gain. So in this strategy, you need to generate a sense of community in participants and a better chance of them becoming a brand that advocates.

Single Campaign- Several Triggers


One business will gain benefits only when the consumers are engaged at the right time and right place. That is why this sweepstakes advertising idea focuses on engaging the users based on their preferences. For instance, the chance of winning a coupon, winning gadgets, free courses, etc.

Social Behaviours Reward


In today's market, social media has the power to make or break the success of your company's

marketing campaign

. When it comes to sweepstakes websites you can use social media platforms to your advantage. To employ your users as brand ambassadors, you can provide them with sweepstakes points for performing actions to share posts like watching videos, leaving comments, etc.

Algorithm of Gamification


In recent times Sweepstakes have used popular tools of gamification. It makes content and advertisements more exciting to participate in. It will not increase the conversion rate but generate buzz around the brand to a greater extent. Leaderboards are one such example that advertisers integrate into landing pages to see their immediate competitors in the race for a reward. It also engages them and encourages them to do more.

Expert and Ad networks partnership


The contest regulations keep changing every time, which makes the traffic behavior change very fast. To reach out to a vast number of users, you need a well-oiled traffic machine. Advertising networks come into play here. Advertisers can run their own campaigns or apply to manage services.

Convincing surveys and prizes


Users are entering into sophisticated ways of dealing with ads. Advertisers need to avoid using misleading headings during the advertisements like using call-to-action buttons like "You Won"

Prize Trends


Though prizes depend upon the offer, some rewards are still more popular than others. Like among many rewards, Apple products are the most wanted prize for a long time.

Trending creatives


Creativity is very much in demand in Sweepstakes. It needs to be productive creativity to bring high CTRS. In mobile creatives, mostly Tik-Tok boosted world, interactive and OS-friendly creatives are investing decent cash into ROI. When marketing pros turn to the social bar ad format for Sweepstake advertising, you can add custom creatives to stand out on a publisher's page.
Choosing Sweepstakes offer in Affiliate Marketing
Decision-based conversion flow:

It is one of the most rewarding SOI flow for beginners in affiliate marketing. If you cannot guarantee conversions here then never allow CC to submit payouts to allure you. It may lead to negative outputs.

Landing Page

: You need to check the page's download speed. If it loads slowly, you might lose a substantial percentage of your traffic.

Check the credible landing page

: The general belief of the users should be as they are giving away their data to get a real chance to win. Keep cautious while going for home appliances and off-season Sweeps. There are chances they may not spark easily.

Ensure sending traffic

: When you are exploring affiliate marketing then be cautious with the combo offers. Tier-1 traffic+iOS devices are the most demanding ones. Here you can go for the Tier-2 or Tier-3 traffic or look for Android traffic.

Start with Popunders

: Let offers run on Popunder traffic. Pop traffic is traditionally the most abundant. Next look for social bar ads that look natively on all OS to have higher CTRs.
How does AXAD advertise with Sweepstakes offers?
AXAD experts need to choose what to offer first, then determine the traffic source and the GEO. AXAD also utilizes PIN to submit an offer and the GEO is not restricted to a particular country.

In the next step to determine the bidding strategy, AXAD balances your spending and payouts to provide end profit. If you are a beginner affiliate, choose the bid recommended by AXAD estimation algorithms.

Now you need to decide whether you need to pre-warm the user or not. If your landing page is high-converting then you don't need a middle page. The well-designed creatives will help to increase conversions and let you get rid of unnecessary traffic. AXAD experts offer the dynamic prelands for you here.
After that comes optimization. Sweepstakes need to change the prelands whenever anything goes down. Or else you can take the help of the AXAD custom bid feature for this project.
With all these steps you will see a visible positive result that AXAD Affiliate marketing is promised to you.

To start advertising with AXAD affiliate traffic you need to check out the checklist. AXAD experts are sharing tips on how to be victorious in the contests to win money for gaining traffic and conversions. AXAD is also focused on the common issues those affiliates face and basically struggle with:
The highest bids do not mean the highest results


If you want to gain effective results then bid on the recommended bid instead of trying to win all the highest traffic. Because you need to manipulate bids and outcompete other advertisers.

Conversions come immediately with Sweeps


You need to focus on your CPA conversions and keep eye on instals that come in the first hours. If you are seeing any results in the first few hours, then consider changing your offer's message and values. Though CTRs will be excellent, don't let them fool you, your primary focus should be conversions.

Start with Broad Targets


Though you are launching many lookalike campaigns with many networks, AXAD experts are recommending you to target broad on a new traffic source to exclude over-optimization and traffic loss.

Go for New GEO-New Campaign


For each new GEO, you need to add a new campaign. If you are using multi-GEO campaigns then it will be hard to guess which traffic source you need to exclude and which you need to send to a whitelist.

Work on fast reaction to save money
You need to check out which level you should increase your bid. By updating the bid, keep it at this level until the conversions start pouring down. You can use the custom bid tool after you have collected enough information on the best and worst placements.
Level of Tracking


When you are doing CPA campaigns, conversion tracking is a must. So add tracking tags that are required by AXAD.

Alternative traffic types


Sweepstakes websites campaigns traditionally run on mainstream traffic. So try to launch a test campaign with a non-mainstream type. There are tons of impressions that users' behavior patterns are the same. They want to gain value for free.

Additional ad formats


Some GEOs may stream fewer impressions for popunders. Work on picking another ad format like Social Bar that sends significant volumes of mobile traffic. With Social Bar, you can have creative templates to launch without taking too much time.

Prelanders


Every vertical and campaign type recommends prelanders. You can go without prelanders with Sweeps if your ensured

target landing page

is credible enough.

Maintain the communication


Be in touch with AXAD experts. They can advise you on the payout amount and bidding tactics and share the most successful offers that rotate from time to time on the network. AXAD CPA advertisers get access to our in-house prelanders and can apply for custom creatives.
Final Thoughts
Sweepstakes advertising is the top trend that is easy to get into. Sweeps have a low barrier of entry and high conversion levels which makes them perfect for beginner advertisers. CC Submits are also perfect for experienced marketing specialists, as they provide better payouts. A good Sweep is always a profitable Sweep, therefore making it work with the best traffic from direct publishers' websites. Or else let AXAD Affiliate Marketing work on Sweepstakes offers.
---