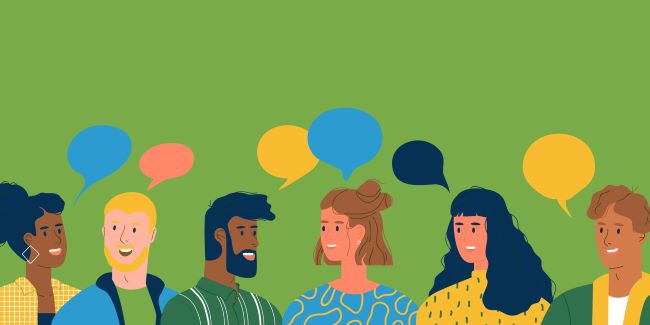 "Word of Mouth Marketing" is one of the strong marketing tactics that nobody considers a marketing strategy. Despite it falling by the wayside, it is one of the marketing strategies that is scant more than a conversation.
AXAD experts in this blog are focusing on word-of-mouth advertising flourishes that are included within the most effective digital marketing strategy deployed. Let's explore:
Trust
It is the most important factor in any marketing business. When someone wants to use a new product, he would be very much sceptical about it as it is totally new. At that time he will only go for the trusted links, online reviews, or an influencer or buy with recommendations. Most people take recommendations from friends and families.
Word to mouth create trusts
Advertisement content comes from various sources. Mostly the products come from browsers, Television shows, applications, social media platforms, billboards, storefronts, and digital media platforms.
People always look for products from trusted companies. They will check whether the product has a good track record or not. The record should include reliability, and consumers feel comfortable with their purchasing decision.
Trust affects consumer's decisions
Consumers first listen to the recommendations. Try to hear someone's experiences with a particular product before buying it. Brand awareness spreads through word of mouth. If one consumer finds a good product and loves to spread about it to a new person, then that individual will spread it in turn. Even if these conversions don't lead to purchases, they will bring brands into awareness.
Consumers only recognize and trust those brands when they find a loyal following. Brand awareness can also help in:
Include positive emotions about companies or products

Try to be different than the competitive sites

Create a sense of connection in shoppers
Low-cost method for boosting sales
Many go for digital marketing campaigns for their business. Word-of-mouth marketing is not an expensive strategy. When a customer is sharing a positive experience with a product, it won't cost him/her anything in return. That is the reason mouth marketing is every marketer's best resource.
Word of mouth marketing helps in building community
Word-of-mouth marketing creates a loyal fanbase. In this type of marketing, shoppers will engage with your brand and share their experiences with others. By having customers who can vouch for your products, you will have a community of fans that stay loyal to you.
The loyal customers repeat purchases instead of heading to your competitors. They also spread the word about your brand, and influence the decisions and choices of other buyers.
What is word of mouth marketing?
According to Jonah Berger, a professor, word to mouth A word of mouth marketing campaign can use social currency to encourage consumers to share exclusive information about a product. Whether it is a secret event or a private launch, it will definitely get the public talking. Because, people always want to be part of something exclusive—and at the same time want others to know they're the "chosen ones" for the product or service of the company.
He also mentioned Triggers, which support word-of-mouth marketing by heightening its effect and promoting brand awareness. Triggers remind people about sales, products, promotions, and services.
How AXAD Digital marketing encourages word of mouth marketing?
Word of mouth marketing is a very effective tool for branding. AXAD knows it very well and is always ready to utilize it for better sales. The best thing about word-of-mouth marketing is that it is very much cost-efficient. If you want to use word-of-mouth marketing to build your brand and drive sales, here AXAD experts are describing a few strategies you can employ:
Make things worth talking about:


It is necessary to share something creative or interesting about your company, product, or service, which becomes successful word-of-mouth marketing. Find whether there are any buzzworthy characteristics of your brand that may help it go viral. Make sure buyers are getting a quality experience when they choose to use your services.

Encourage reviews:


The reviews are always appreciable for improvements. Customer reviews assure buyers that a company or its service is reliable. Try to remind your shoppers to leave reviews after they purchase something. Nowadays many buyers are very much trusting of online reviews. Reviews, ratings, and customer insights in marketing all are adding concrete proof to show a company's accuracy and trustworthiness.

Add influencers:


To increase the brand value you have to reach out to influencers. Because influencers and thought leaders have thousands of followers online. People rely on their recommendations, they believe they are the symbols of quality and guarantee. With their wide reach across audiences, they make people excited about your company's products and services.

Referral program implementation:


Create a referral program for your products and give incentives to those people who share your information. The referral program helps with the referral program and encourages users and their friends and family to try out your services. This is a perfect method that helps you to measure your campaign results. Must go for it, it adds value to your brand in digital marketing services.

Encourage user-generated content:


It is a common habit of buyers to look into the experiences of other customers before deciding to buy any product. User-generated content is one of the popular ways to spread your company's message. Encourage customers to create their own content by coming up with hashtags that the public can use. As incentives, you can give discounts as a free gift, and can share community-generated content on your page.

Showcase exclusivity:


Consumers like to talk about something that is exclusive or unique. If you are giving customers something that they won't find anywhere else. So they will share their experiences with others. This generates more buzz around your brand and cultivates interest in what you are offering.
Final Thoughts
Word of mouth marketing is one of the most effective ways to spread your message across the audience. It is a cost-effective strategy for building a community among your buyers. By using a few simple tactics, you can create a stir around your brand and establish your company as more trustworthy and reliable.
When it comes to AXAD digital marketing, the experts are paying special attention to customer narrative. The team will value your company message and help in creating a buzz that chatters across multiple channels. AXAD will not provide its best support for digital marketing, it also works for affiliate marketing and performance marketing. It will help to bring trust to customers. That trust ultimately is why people are going to buy your product. At the end of the day, AXAD works on the metric for the quality of your brand.
---