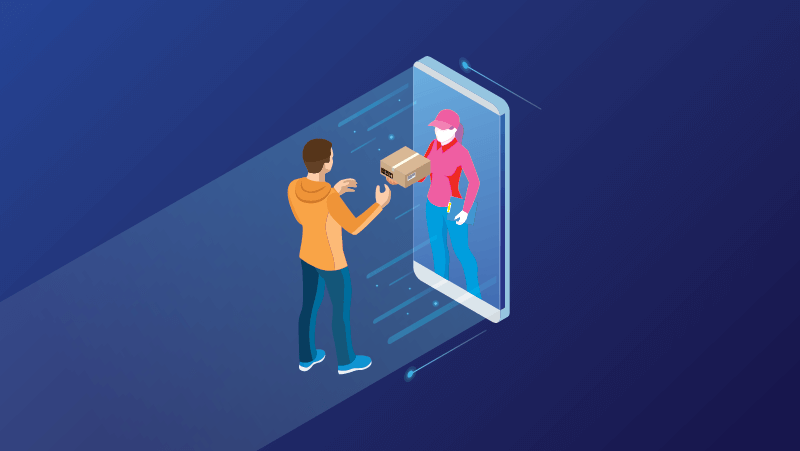 The rapid penetration of the internet is making things easy for everyone in the world. Today we can say it plays a crucial role for everyone. Now reaching consumers is easier than ever before. And added that the direct-to-consumer business model enables brands to reach their targeted customers directly. Which is simply eliminating the middlemen's involvement in D2C lead generation. As per recent research at www.yourstory.com, e-retail sales accounted for 18% of all retail sales worldwide in 2020. This figure is estimated to reach 21.8% by 2024. Therefore if you are a D2C brand then now it's your time.
As a D2C brand, you need to focus on increasing sales by implementing lucrative strategies. AXAD as a digital marketing firm believes in offering a personalized touch to increase customer value. Let's explore the area of D2C in the eCommerce lead generation industry and what are the factors that help D2C brands to enhance their sales.
Know about Direct-To-Consumer Retail
Direct-To-Consumer companies are producing and delivering their products directly to the customers without getting the help of any intermediaries. It is a kind of win-win practice for both customers and D2C companies as shipping costs get cheaper.
These companies get to sell products to lower costs in comparison to other similar niche traditional brands. They get complete control over the manufacturing, distribution of product processes, and advertising. Unlike other conventional retail, D2C companies have the experimenting benefits with different distribution models. They can switch between shipping models such as delivering directly to the buyer, collaborating with physical retail stores, or establishing pop-up shops.
Here are some crucial factors to increase sales in the D2C business model. These factors will help to boost eCommerce sales and increase lead generation. Check out:
Align your brand as per customers' expectations
In D2C sales, every aspect of the purchasing experience of your customers will influence how they perceive your brand. Here you will be responsible for providing information on product education, hassle-free checkout, scheduled delivery, smooth exchange and return process along with customer care service.
You can align business with the aspects like:
What kind of shopping experience do you expect from customers?

Each element of the shopping experience contributes to your business goals

Responsible departments for ensuring customer service matches brand standards
To achieve all these you need to invest in direct-to-customer sales, your business needs the proper infrastructure of relevant departments. Must ensure each of these departments is delivering high-quality services to maintain the business objectives.
More valuable service
To match the expectations of consumers you need to offer unique things that are completely different from traditional retailers. Instead of following the same membership programs, free shipping, wish lists, free exchange, return-click and collect, focus more on like product configuration and also update the customer about products in detail.
Change the mindset
After removing the traditional retailers from the purchasing experience, you need to be the retailer yourself. So now you have to focus on thinking about how you can enable the best possible experience and smooth out every buying step journey of the customers.
The product page need not educate customers about the product but match their expectation level to drive more sales. Here it is your responsibility to give a personalized experience to customers so that when they visit your page, they draw the most attention to your products and services and feel like it is meeting their needs.
Arrange Resources
The D2C lead generation model needs to invest in essential tools to boost brand sales and they are:
Payment process

Managing brand-consumer relationships

Send transactional relationships

Proper shipping management

Consumer data analysis

Live interaction support

Facilitating direct consumer calls to different channel applications



Adding Expertise level to D2C
It is necessary to enhance D2C department functionalities such as business developments, order fulfilment, customer retention and acquisition, content creation, and brand distribution for eCommerce lead generation, manufacturer leads generation, producer lead generation, etc.
Strategy updation
You need to update your business strategy for each part of your customer experience with the brand. To achieve this you need to be aware of what your consumer base expects, wants, and needs in every step during the research time of your product before deciding to buy them.
Leverage partnership
In D2C models the major challenges businesses face can be solved with the right partner agencies, tools, and available platforms.
Outcome assessment
You should be able to know if you are actually getting high returns with your D2C lead generation model or if you are only reducing your reliance on traditional retailing marketing. Here you have to assess what sales percentage you need to match with your investment and efforts to put in this model.
Final Thoughts
Direct-to-Consumer proves to be a beneficial sales model for specific brands. Till now every business is not able to achieve success. Therefore brands must do a thorough analysis to discover whether their business circumstances are feasible for adopting the D2C lead generation model or else you can take the help of any e-commerce experts. Or else you can take the help of AXAD experts to understand your D2C lead generation model's pros and cons for your brand. The team will analyze all aspects of your business and will provide solutions to adopt the D2C model service for you. Join with world's fastest-growing brands with AXAD D2C lead generation strategies.
---