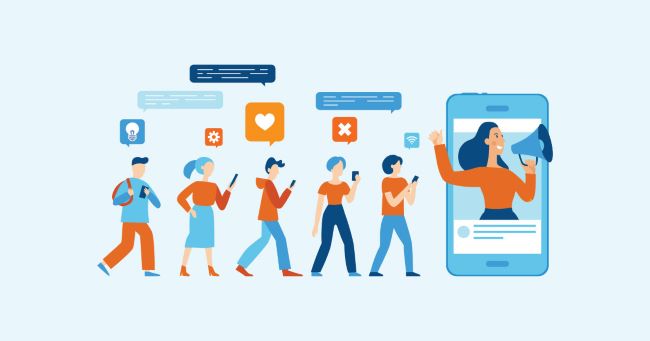 Digital marketing is constantly evolving with emerging new technologies, increasing audience behaviors, and day by day developing social media revolution. To be updated with the competition every affiliate marketer needs to adapt to all the changing strategies or else you will fall behind in affiliate marketing competitors to capture all your audience's attention.
AXAD is including one of the best forms in its affiliate marketing program and that is influencer affiliate marketing. For every niche, plenty of influencers are available and with every influencer, a marketing opportunity is waiting for a business.
AXAD is covering everything you need to know about influencer affiliate marketing such as how to use your data, how you can select the most suitable influencer for your affiliate business, and how you can reach your top choices.
Let's start with influencer affiliate marketing
Affiliate marketing simply follows the rule of "referral marketing", where one brings customers to a new business and in return gets rewarded either with payment, discounts, or some other incentives.
Whereas an influencer affiliate marketing entails a business starting with an influencer partnership to promote its products or services. It is one of the forms of an affiliate marketing program that works mostly on creating content with a target audience. And in exchange, the influencers receive commissions, which come in two different models.
Pay-per-Click: It refers to the influencer a small commission for every customer that visits a business's website.

Cost-per-acquisition: It offers the influencer a percentage of commission of each purchase that stems from their marketing.


After tracking the affiliate links both parties can show how many people are purchasing or visiting the business through the influencer's direction and promotion. Based on the conversion rate and commission rate, both parties can decide what should be the payment.
As per experts, the market spending for affiliate marketing in the U.S will grow by over $8 billion in 2022. And 81% of brands work with influencer affiliates to promote their products and services.
However, do you have any idea how an affiliate influencer can promote your business exactly? As a social media influencer and blogger. Let's take a look at some of the best benefits of affiliate influencer marketing with AXAD.
Can Influencers be good affiliates?
Lead generation is the game that brings affiliate marketing into the limelight. Here the goal is to drive as many buyers back to the website as possible and convert them into potential customers. At the same time, influencer marketing is a bit different from working on lead generation. It is more concentrated on creating brand awareness. Influencers can drive measurable results to affiliate marketing efforts to choose the right people for the job.
Here are some benefits of Influencer Affiliate Marketing:


The influencer system is

built on trust

. Here followers trust their favorite influencers to promote brands in which they believe the most. It is a kind of building trust through social proof.
Go for

product or service promotion in a different subtle way

. Influencers create engaging content. Do promotions through videos, podcasts, blogs, or any other popular method. It helps to promote your business through different mediums, without having content only.
Inform, educate and engage your customers

. Influencers create their content and design it to keep the audience's attention. An influencer can create an entire piece of content around your brand to engage your viewers' for a longer period. The content includes various information about the product and services, its details, its benefits, and likes, dislikes and share their recommendations, etc.
Try to reach your niche

. When choosing your influencer, get hyper-targeted in terms of working with someone that fits your brand's specific niche. You should focus more on narrowing the group of people to get the best results.
On the flipside, check the drawbacks also:
In the influencer affiliate marketing business prices are negotiable and the brands have bargaining power during the sponsorship deals. Many influencers charge a flat rate up from meaning that partnerships can get costly.
If you affiliate marketing program when you are partnering with an influencer, you may have to give up some creative control over how your brand is being represented. Here you have to trust your influencer and in which color they are painting your brand, you have to accept that.
Measuring influencer ROI is difficult in different businesses. If you have not invested yet in an affiliate marketing solution then do it now to better track your spending and results.
Sometimes an influencer may fail in their risk-taking projects. So it is wise to research beforehand to enter into a two-way partnership with influencers.
How can you choose influencers for your affiliate program?
When you are entering into an influencer partnership, the person you choose to partner with needs to align with your brand values and whom your audience can trust. Your one choice of choosing an influencer can greatly affect your company. Because a very successful YouTube personality can lose a thousand followers overnight with one bad decision. So choose wisely. Marketers must do their research before partnering with an influencer.
Best Practice to choose the right influencer to promote your business
Do preliminary audience research:
Conducting preliminary research is necessary to determine whether your audience would be receptive to this type of marketing or not. If you have already a successful affiliate program in place, It is easy to assume that your audience is already following similar influencers on social media and should be receptive to brand partnership. It is always wise to do additional research to confirm that there is real interest in your audience.
Some influencers are predominantly focused on one social platform, while others have large followings across multiple. Here you have to look for influencers that have the most engaged following on that specific social media network. You need to put money on that channel where you can find your maximum audience.
Set Marketing Goals:
You need to set a new marketing initiative with clear goals and objectives in order to guide your strategy.
Need to build brand awareness on a new platform

Drive traffic back to your website or a landing page

Grow sales

revenue through conversions

Increase sign-ups for your email newsletter
Familiar with types of Influencers:
There are different types of influencers. Which type of influencer will work with your affiliate marketing program you need to decide and choose your partner. Here are different types of social media influencers:
Nano Influencer: They run with 1000 to 100,000 followers. They often have a more niche audience. Though they have a small and specific field niche their following is most loyal.
Micro-Influencer: They run in between 100,000 to 500,000 followers. You can call them rising social media stars who fit within a niche-specific to their industry.
Macro Influencer: With between 500,000 to 1,000,000 followers they run their program. They are mostly public figures and entertainers with millions of followers.
Celebrity: They are the highest level of influence. They are public figures such as athletes and entertainers with millions of followers.
However, the number of followers is not always an accurate indicator of the actual success rate of the influencer. In some cases, fake followers are also found. So take a close look at engagement metrics as a secondary source of information to guide your decision. You may also consider your influencers as per your budget. If you have a micro-influencer then you can include several people as part of your strategy but if you are choosing a celebrity influencer then you can manage with one.
After finalizing your influencers you need to start your groundwork for influencer affiliate marketing. Those who are available for free can take them as a trial option. Use the free tools to conduct advanced searches to find influencers and connect with them.
Search for influencers on your own, and use hashtags that are relevant to your industry to see what kind of content pops up and who are leading influencers in the space. You need to think as per your audience. Get a feel for what kind of content you find most compelling and reach out to the influencer if you think you have found a good match.
Influencers will put their contact information on their social media profile, so you can easily get a hold of them. If you don't find their information publicly then you can use AI sales assistants to help salespeople and marketers to find business contacts.
Negotiate Compensation:
The difference between influencers and traditional affiliates is the terms of compensation. Affiliate marketing program follows the pay-per-click and cost-per-acquisition models where influencers require the brand to pay a flat fee upfront. Costs will vary by the influencer, social media platform, and where you promote a post with social media advertising or using free posting options. Most influencers are open to negotiation, therefore you can come up with a solution that works great with both the parties.
Final Thought
Changing your affiliate marketing strategy to include influencers can feel daunting. Per the fact, marketing is all about trial and error, and pivoting to try something new can make all the difference if you use the right marketing analytics. These tips by AXAD will help you to achieve success in your affiliate marketing program. If you still face doing on your own or you are not able to find a perfect influencer partner then be a partner with AXAD affiliates. It is one of the best performance marketing firms that work by updating all-new online marketing trends to create your brand and gain lead generation by converting your visitors to long-term customers.
---