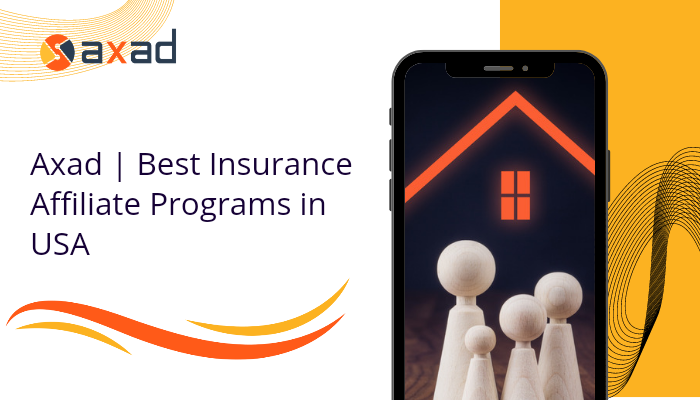 Among the many articles and analyzes that cover affiliate programs from various verticals, there are few that cover life insurance affiliate programs or health insurance affiliate program in USA. As if advertising for them is some kind of no-no.
I personally don't know any online entrepreneur who would give up a slice of the trillion dollar pie through health insurance affiliate program in USA.
Selling insurance is more regulated and allows for fewer affiliate tricks than, say, selling a flashlight. But many insurance companies, including the biggest ones, still use affiliate marketing as an additional sales channel.
Let's Discuss How an Affiliate Marketer can Promote Insurance Affiliate Programs in USA -
About Affiliate Marketing in USA
Affiliate marketing is one of the marketing sales channels that large companies often use as another way to reach potential customers. The gist is: the company that actually has the product (the insurance policy) hires third-party marketers, commonly known as affiliates, to promote their product.
Affiliates can use a number of ways to reach customers, but most of them choose to pay for traffic from sources like Google or Facebook or others.
While it is possible to monetize your own organic traffic—which eliminates a significant portion of the cost—growing and nurturing organic traffic takes a lot of time and effort. Paid traffic brings results faster. Through affiliate marketing you can get the best life insurance affiliate program in USA.
When an affiliate converts a customer using their optimized and ad-tracked campaign path, the policy seller will reward that affiliate. Payment depends on the commission scheme. More about them later in the article.
About the market
The life insurance market is a large part of the general insurance market. Accident, car and health insurance affiliate program in USA make up the largest part of this market.
"Insurance" is one of the most expensive keywords in Google Ads in 2022, ranking sixth.
Life insurance companies in USA offer three types of products:
Term life insurance where the policy lasts for a fixed period of time. This is usually a cheaper option and brings a smaller affiliate commission
Permanent life insurance (whole life insurance), which covers the entire lifetime of the policyholder
A hybrid is a combination of both of the above.
There are many sub-types and new products that combine insurance with savings, so make sure you understand what you are advertising.
In general, life insurance advertising is subject to more regulation than other products. Each policy seller must be licensed to operate in that state, and each advertiser is subject to the guidelines of the National Association of Insurance Commissioners.
You don't need to read them all, just follow one simple rule: 'Never promise anything you can't deliver'.
1. Find A Niche
Although anyone could use life insurance, only 54% of Americans have it. This figure has even decreased by 3% compared to the previous year.
Surveys show that far more people know they should have life insurance than actually do. The difference between these two numbers is often referred to as the ownership gap – and that's where you can shine. These are your hunting grounds.
The biggest mistake an affiliate can make is to try to sell everything to everyone. People who think they need life insurance but don't have it are a diverse group, and you need to tailor your message accordingly.
When advertising to different groups, you should use different arguments, angles, creatives and even language:
University students
Seniors
Parents
Non-English speakers
Bargain hunters
Millennials
Decide on a niche and stick to it. It is always better to be a master of one niche than a beginner in many.
2. Research Your Niche and Campaign
It is the time for some planning. Research your niche, their issues, what they respond to, and where to find them.
Perhaps the best way to catch your visitors is to advertise on social networks? Or maybe try to appear in search engines? Inside a mobile game?
Now is the time to make those decisions – planning is important.
You also need to design a website to direct visitors to. This page, referred to as the "landing page," should contain additional incentive content that further explains the benefits of life insurance.
- Audience Research
Think about where your audience might be. Meanwhile, Facebook, Quora, and various services like AnswerThePublic can give you information about what their problems are and how to approach these people.
If living on a budget is a recurring theme for your audience, advertise a cheaper option and highlight the long-term profitability of life insurance.
Parents will focus on ensuring the well-being of their children - focus your message on the benefits that young children can gain from their parents.
There is life outside the internet. Ask your friends and family (those who match the qualities of your audience) and they'll be happy to tell you what made them buy life insurance, or what kept them from buying it.
- Keyword Research
If you plan to advertise on search engines, keyword research is a must. Some people simply type "insurance" into the search box and hope for personalized results. You won't be able to rate such popular and generic keyboards.
However, a lot of people are more specific in their search queries and tend to type in phrases like "student life insurance chicago" and that's a phrase you can target.
There are many tools dedicated to proper keyword research. Google Keyword Planner is one such tool, it is free and works for most users. Professionals like to get more complex (and paid) tools like Ahrefs or Semrush.
3. Decide on A Cost Model
Remember when we talked about affiliate compensation? The insurance company can do this in several ways. The way an affiliate is paid is called a cost model or commission scheme.
There are the following:
Selling costs, where the insurance company pays you only after the customer actually buys the policy
Lead fee when the insurer pays when the form is submitted. In this model, the customer fills out a form with their personal and health information, and then the seller takes over
Revenue share, when the insurer pays the affiliate some money after the purchase is complete and then still pays a fraction of the revenue they earn.
Each cost model has a different strategy. If you're more of a marketer than a salesperson and don't want to deal with the bulk of the sales funnel, use cost-per-lead programs. It will be the responsibility of the insurer to secure the sale and the insurer will be responsible for resolving any doubts or questions the prospective customer may have.
However, there are greater rewards in the cost of sales model. Obviously, the final sale will happen on the insurer's end, but you'll need to nurture the prospect a bit longer. You'll need to explain the product in detail instead of just directing people to a lead entry page.
The highest total rewards come with the revenue sharing model. The initial payment isn't usually that much, but if you multiply it by the number of months you'll be receiving it, the total can be quite outstanding.
The only problem associated with this cost model is maintaining cash flow. You need to have more cash reserves to pay for the operation and maintain your website for several months before the secure store payments accumulate.
4. Selection of Affiliate Life Insurance Programs
Choosing a program is not much different from choosing an insurance policy for yourself. You are looking for an insurance company in USA that is:
Serious
Licensed
Attractive
There are so many global, national, or state-only life insurance sellers that it is beyond the scope of this article to list them. Research them based on what you've learned about your audience and use them.
Please note that some insurance companies may be selective in accepting new affiliates and may require proof of experience running affiliate campaigns.
5. Track your Life Insurance Affiliate Programs in USA
Most, if not all, life insurance companies that operate life insurance affiliate programs in USA offer some type of reporting system to their affiliates. To settle payments with an affiliate, they use it. What an affiliate can get out of it is usually pretty basic:
How many people converted (purchased or submitted a leadgen form)
How much money did they bring you?
There is little information about who these people were, and more importantly, what made them click.
To optimize your life insurance affiliate program in USA campaign, you need data. And there is no better way to get data than the Axad affiliate program.
Axad life insurance Campaigns in USA are Better -
Advertising life insurance affiliate programs is not much different from advertising any other product. Do your research and track your campaigns and you should be fine. We provide the best insurance affiliate programs in USA that are worth your business.
Running an untracked campaign is like going on a journey without a map. Sure, wandering can be fun, but not so much when you're paying $2 for every click. Also, connect with us in case of any car insurance affiliate program in USA, or travel insurance affiliate program in USA.
---