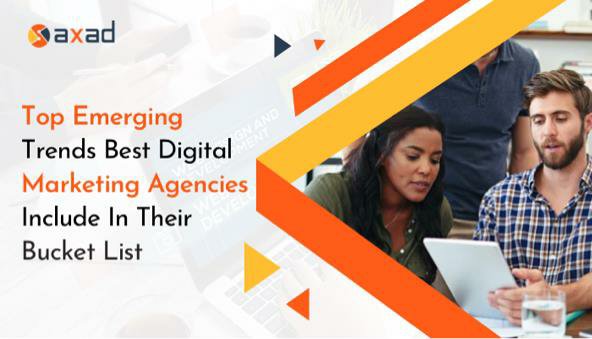 Every business is empowering itself to be part of digital evolution. Because the rapidly evolving technology is transforming every aspect of marketing which can be visible. As marketing has been digitized, every business is eyeing it and it is compelling all the best digital marketing agencies to prepare themselves for the tough competition. To reach a distinguished position an agency needs to have a lot of potentialities, which they can achieve by being adaptive to all new trends in digital marketing. In this AXAD blog, we are exploring all the new trends in Digital Marketing.


Let us begin!


Take a look on what are the latest marketing trends, which all the best digital marketing agencies are eyeing on:


Artificial Intelligence


Artificial Intelligence or AI, which is though in its developing stage still is a hot and happening topic in the market. The AI tool by DALL-E for generating images and the popular ChatGPT, an advanced text-based solution, already have shown their power to boost digital marketing strategy. So, just think if AI's starting is like this, then what will it do, when it will full fledged enter the market? As per Intellipaat sources here, we are demonstrating the top reasons for organisations to incorporate AI into their system:


AI assists businesses in properly segmenting data. It is beneficial to break down, arrange, and examine diverse behavioural and demographic data as well as information from analytical software. These both are in their research stage for machine learning, and already helping many agencies to groom their digital marketing strategies. But still, the best digital marketing agencies are waiting for what is next for them or what impact will these machine learning tools have on significant digital marketing trends.


Emergence Of Influencer Marketing


Influencer marketing is the most happening addition of social media activities by all the best digital marketing agencies nowadays. Because nowadays people are not blindly trusting any product. They are looking for reviews and showing interest in mouth marketing strategies. In such a situation, influencers are taking advantage. As people are following top influencers, whatever they are doing or saying about the products and services, people will love to follow because they trust their influencers. An influencer paves the path to their followers' hearts. This procedure increases credibility and confidence.
As per Intellipaat.com, The suitability of influencer marketing, irrespective of the size of the business in the market, makes it the favourite choice for brands.
Therefore, nowadays influencer marketing is coming under top digital marketing strategy that every company will love to add to their marketing strategies. Influencer marketing promotes better targeting of customers. You will be directed to the appropriate audience to market your products if the influencer's niche resonates with yours. It is more likely that you will convert and generate leads because you will be reaching the right audience.


Personalized Marketing


Personalization is a must-included activity with the best digital marketing agencies' social media services. Today only displaying product or service advertisements is not going to attract people. All you need is to pay attention to their problems and address your potential customers' problems and though your service offers them solutions.


AXAD personalise marketing includes personalised content, products, apps, emails and services. We are mainly focusing on giving attention to people's unique choices. With the help of machine learning, AI and deep learning are helping in this matter. They help to give details based on behaviour patterns about people. AXAD personalised marketing including AI with customization to meet clientele needs.


Video Content In Short-Form


After Tik Tok, Instagram, Youtube shorts and Twitter tried their luck with fleets. Because short-form video format is a completely different content piece that drags customers' attention soon. TikTok videos work like a time-filler for people for which it earned popularity.
Therefore, the best digital marketing agencies need to include the first seconds of the video to grab the user's attention and try to save their brand in their memory.


Multi-Channel Social Media Marketing

Facebook is not the only community where you can post your services. Nowadays multiple channels are rising, which can help you to display your business advertisements to achieve conversion easily. The story of TikTok taught everyone to prepare themselves for every new platform that is appearing on the market. Because GenZ is the jump ship to new things easily and never looks back.


Linkedin in Your Strategy


Best digital marketing agencies are not even daring to ignore Linkedin. Because day by day Linkedin is becoming the face of every business page. As a result, though a Linkedin premium is offering one of the most expensive social media subscription plans, still its subscription results are increasing day by day. Today more than 39% of Linkedin users are ready to continue with these expensive subscription plans.


Programmatic Advertising


Programmatic ad buying is a technology that relies on software to buy digital advertising. In this advertising, the display space in the search engine on the website is bought by using machines and algorithms. People are relying on programmatic ad buying a lot because it helps in better planning and optimization through efficiently targeting advertisements.


Visual Search


Best digital marketing agencies cannot ignore visual search as it is the latest digital marketing trend that take users to a next level of experience. The users either upload a picture to search for similar products or pictures of the users can simply use their devices to capture an image to search for similar ones. The popular tools are the Pinterest lens and Google lens.


The visual search tools help in finding similar products and information about where to buy them. When you use your camera to scan a barcode, Google lens helps to find out all possible information about the product and the stores. The same feature can be utilised for other purposes also. In art, if you use Google lens, it will describe the art and even the artist. When you use this lens to scan a plant or animal it will direct you to details of the species and related breeds of the particular organism.


Voice Search


Technical advancement is helping people in every way. When a user talks into a smartphone or any device equipped with a sound sensor and detector, the device will display the speech in written form. Smart speakers like Alexa, Siri and Google Home are familiar technological examples of voice search.


User-generated Content


User-generated content or UGC encourages customers to create something unique with the production in question and share it with the rest of the world. UGC campaigns work in less time, effort and resources. It helps in creating better engagement and leads to high conversion rates.


Virtual Reality


Virtual Reality allows you to experience and interact with a 3D environment which is not real. YouTube VR is software that is built for virtual reality. People can use these VR for recreational purposes, training, and even medical applications. Here the options are limitless.


Augmented Reality


Augmented reality is a part of the best digital marketing agencies strategies. It helps in enhancing the real-world experience with the help of computer-generated perception. Augmented reality adds different elements to the surrounding reality with the help of a camera or smartphone. In the business world, it helps the user to take pictures of their needed aspects through smartphones and virtually check them or place them before buying.


Final Thought


AXAD here brushed up on the latest marketing trends that help the best digital marketing agencies to gain better experience to deal with a competitive business market. The creative technical revolution in the field of digital marketing should not be ignored. And it is yet to be conquered. So be a partner with AXAD to learn more about the top digital marketing trends and technology. Join AXAD now.
---