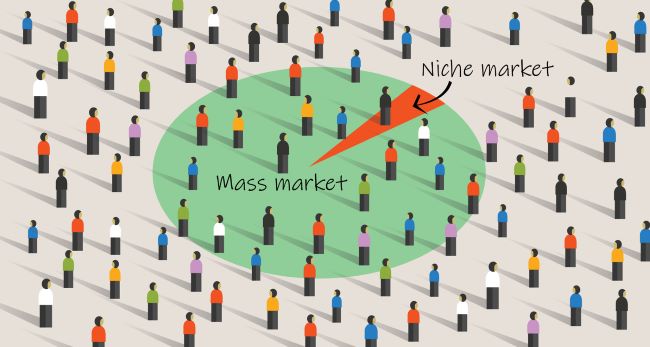 Making money in affiliate marketing is everyone's dream. Making money 24 hours, 7days a week, 365 days a year, and even dreaming about making money while sleeping. An affiliate aims to be workable wherever and whenever they want and earn money.
However, only dreaming won't give prospective results. Because there are lots of factors included to achieve success in affiliate marketing. But success always starts with finding the right profitable niche?
Then what exactly is a niche that provides profits? How can one find a niche for a business to score well? Then what is the role of Search Engine Optimization in affiliate marketing? How do affiliates achieve a high-ranking position in Google search results? These are all confusing queries of newbies who want to enter into affiliate marketing but are skeptical about it in many ways.
This is the blog AXAD affiliate marketing team is sharing with you all to understand what is a profitable niche and how can you find a perfect one? Nothing is more essential than researching to get an affiliate niche. Along with examples, AXAD is starting with a step-by-step process that you can follow as per your knowledge, skills, and goals.
A niche is a market segment where a product or service can be targeted. You can find a wide range of niches and each has its own set of challenges and opportunities. Whenever choosing a niche, you need to do proper research on it to nail it down.
Why is it important to Choose a Niche?
Affiliate marketing niche is important as it is going to help you to decide where you need to concentrate? Where you need to give your 100% effort without wasting any time earning money online.
However, keep in mind that it is not easy to know which niche is profitable without trying it. That is why the AXAD affiliate marketing firm is emphasizing more on doing enough research. The research will let you figure out whether it is worth your time or not. Before entering into niche research you should ask a few questions yourself:
Are you aware of the subject?

Are you able to get enough resources to learn about it?

Does it align with the values you are emphasizing?

Do you find effective affiliate programs for it?
Make Money with Affiliate Marketing
People want to concentrate more on affiliate marketing as it is the most flexible way to earn money online. If you are a dedicated worker, you must pick an excellent product to promote, provide value to your audience, and earn money with affiliate marketing. You don't need a ton of traffic to get started, you can start in many ways to get started for free.
Grow Your Business with the Best Affiliate Marketing Niche
There is a lot of room to grow with your best affiliate marketing niche. You need to choose lots of things before choosing a niche. There are very good affiliate programs available to make a significant amount of money. The only thing you need is to be creative and work hard to build your business. You also need to choose the type of content your target audiences like and what kind of products they are buying. In this way you can select the right affiliate program for you.
Steps to Choose the Best Affiliate Marketing Niche for You
Step 1 : Search for Niche Ideas
Examine yourself to find the best way to develop an initial idea for a niche. You need to prepare your list before finding an affiliate marketing niche idea.
Feature your skills, focus more on monetizing skills

Your list must include your interest, passions, hobbies those you love in doing

Include your goals, life goals, financial goals, and aim things you would like to achieve
This exercise will help you to add potential niches based on your skillset, goal, and interest. Once you find your niche that fits all three lists then you can start with your next step.
Step 2: Industry Reach Topics
If you are planning to research 2-3 potential niches then go thoroughly on each one. Check their current state, and opportunities you may find within them and look for people and businesses making money in that particular affiliate marketing niche.
There are many ways to enter into affiliate marketing, you can choose your way. We at AXAD basically focused more on blogging. Make a list of six blogs in the niche you are planning to grow with. If you are not finding six businesses making good money then it is probably not a profitable niche for you.
Step 3: Specific Keyword Research
When you are choosing a specific product and want to create a blog for it, it is necessary to have relevant keywords. It is very much effective for online search.
Finding search volume is not enough to determine how much of that search traffic is relevant to buying products you can promote. You also need to find the cost per click and search volume at the same time. Once you understand how much buyer traffic exists related to your chosen topic, you will get an idea of considering your lucrative affiliate niches.
Step 4 : Work for Social Research
Social research is another way to find a profitable niche for affiliate marketing. Look for free and premium online communities relevant to your chosen topics. Once you find it, join to see what is going on those platforms.
Be active in niche communities to find the best ways to keep your finger on the pulse of a given subject.
Step 5 : Do Product and Market Research
Bloggers need to be more attentive here. Only getting a niche market does not mean you start firing blog pots without considering which affiliate products they are promoting.
Suppose you want to focus on dental care but enter into areas of health care. If you make a blog and target all health care platforms then you will go nowhere. Here you have to make your blog target only on the dental care industry. So you will easily target and talk to your audience.
Step : 6 Affiliate Program Research
When you find your ideal products to promote, it's time to check for affiliate marketing offers. The affiliate program offers commission rate, payout methods, minimums, and many check how satisfied their affiliate is in general.
Must check what you are getting into before signing up. See when you are going to get paid, some programs pay instantly whereas others take 30 to 60 days for it. Many affiliate programs prohibit specific marketing methods because there are brands that don't want any others bidding on their branded keywords.
Step 7 : Affiliate Program Outreach
As you have crossed six steps and entered the seventh one, now it's time to contact some companies and ask about their details. You have to do this through email or by entering into their website. Every affiliate marketing program has its specific requirements, so you have to deal according to them. As a beginner, you may find it a little bit frustrating and discouraging. But you have to proceed with the patient to establish yourself in the niche affiliate marketing.
In your profitable niches, you need to focus only on the need that is fulfilled for the visitor. Along with entering into the competition, focus on a niche within a large market that will ensure that you get to the top of Google's search results faster. It is important to set up the largest possible website with relevant content on one specific theme. Go all in and come up with as many topics you can write about that are valuable for visitors.
Final Thought
The fact of affiliate marketing niche is that there is no single niche that works for everyone. Every website, business, and audience is unique in its way. All affiliate marketers have their own style and interests like AXAD has. Only by thinking about what your ideal customer wants and offering great products, can you make some really powerful connections as an affiliate.
If you find problems managing things alone then AXAD affiliate firm is available for you. Working with an affiliate firm from the beginning can be a game-changer for monetizing efficiently for your affiliate marketing. Check out the AXAD affiliate program as per your requirement to bring all your affiliate networks into a single dashboard and attribute your conversions back to content on your website.
---