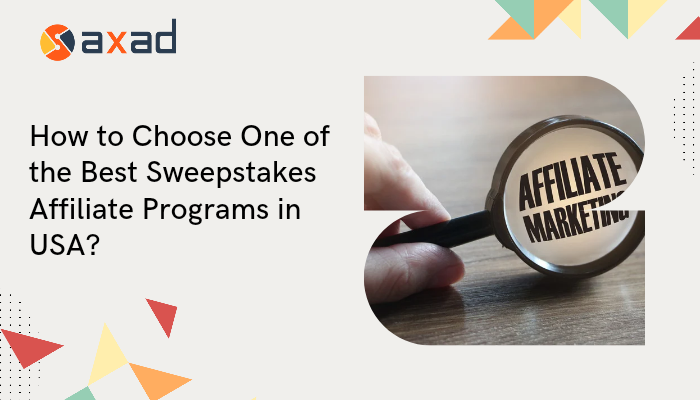 In a typical sweepstakes, people sign up to win prizes, and winners are chosen at random. But in affiliate marketing, almost all offers that require for registration for participation make use of sweepstakes.
Through their own channels, a sweepstakes affiliate marketer actively promotes these services. Sweepstakes, one of the first affiliate marketing niches, has long delivered positive outcomes.
The key benefits and drawbacks of sweepstake affiliate marketing in USA are listed below:
Pros
Affiliate marketers can rely on the vertical to provide a consistent monthly income.
Affiliates can select the finest model for them from a multitude of options; mobile subscription offers are only one of the many that are used.
There are several chances because user acquisition in this niche can be done effectively on both mobile and desktop.
You can focus on particular offerings and develop your game with the assistance of dedicated account managers.
Pop traffic is affordable and effective for sweepstakes campaigns.
Email list-based sweepstakes offerings are often successful, especially if you already have one set up.
Cons
It can be challenging to be successful in the vertical without targeted lists and the proper strategy.
Pop traffic has a low retention rate, and the total traffic quality can also be subpar, thus campaigns require careful planning.
It's challenging to maintain a steady salary level, and the job opportunities change frequently.
Starting sweepstakes offerings on Facebook is not a good idea because you will frequently face account bans.
Affiliate networks for sweepstakes, though, may be well worth your time.
For affiliate marketers and companies that want to get involved, there is a lot of opportunity with names like Axad and GuruMedia giving amazing incentives.
How do sweepstakes affiliate marketing in USA work?
A sort of offer known as sweepstakes affiliate marketing in USA requires users to register or carry out a task in order to be eligible to win a reward.
Travel vouchers, iPhones, home consoles, gift cards, and other modern technology are some of the most popular awards.
Things happen in a certain order. For instance, as you could anticipate, the iPhone giveaway performs far better during Apple events and when new models are released.
Affiliate marketers are responsible for promoting these offerings through targeted campaigns; in exchange, they earn recurring, passive income as compensation.
Overall, it is a vertical that is beginner-friendly, converts quite easily, and has year-round interest in the offerings, which is advantageous to both affiliates and advertisers.
The vertical is definitely worth a look if you're new to sweepstakes affiliate marketing offers in USA in general before going on to others.
Sweepstakes are often divided into two primary categories: email submissions and submissions of credit card information. There are two subcategories for each of them: SOI and DOI, as well as paid and free trials.
Affiliates should consider the four main categories listed below before starting:
CC Submit Payment: The user must enter their credit card information and will be instantly charged a modest sum of money. They are then charged the full sum 7 to 14 days later.
Users must enter their credit card information to begin the free trial of CC Submit; however, they will not be charged until 7 to 14 days later when the full amount is charged.
Users must enter their contact information, including first and last names, email addresses, and occasionally physical addresses, when submitting information through email using the SOI (Single Opt-In) method.
The user must enter their contact information, usually first and last name, email address, and occasionally physical address, and then verify the email address provided. Email Submits DOI (Double Opt-In)
One of the most well-liked verticals for push advertising is the sweepstakes vertical, which also includes survey, lead generation, and coupon offers.
What are the advantages of sweepstakes affiliate networks in USA?
Once you understand how affiliate marketing works, there are numerous advantages, just as with other niches.
Particularly the sweepstakes vertical is an evergreen sector that generates revenue throughout the year.
To put it another way, there is no right or incorrect time of year for advertisers to run these kinds of deals and for affiliates to get paid for their work on campaigns.
The average compensation for sweepstakes offers ranges from $0.50 to $40; however, the SOI offers typically have smaller commissions.
In contrast, CC submissions and mobile subscriptions frequently offer far bigger payments but also present more difficulties for beginning affiliates.
The nice part for affiliates is that you may get creative with them. Landing pages for sweepstakes are vital to success and assist the user get ready to give their information.
To assist you promote to your audience, several of the top sweepstakes affiliate networks include a wide variety of marketing tools like banners, landing pages, and even special codes.
One of the most well-liked benefits is the job's flexibility and potential for passive income.
It's crucial to test operating sweepstakes campaigns employing Pop traffic when beginning; fortunately, affiliates can start gaining from using the following sources right away:
Axad
Adsterra
PopAds
PopCash
PropellerAds
Zeropark
Additionally, the sweepstakes vertical offers a variety of strategies that you can use. For instance, SMS marketing allow you to communicate with recipients immediately and are often very effective. The open and engagement rates for SMS campaigns are frequently very high.
Receivers of an SMS sweepstakes promotion will receive text messages promoting the giveaway; affiliates might gain a lot from using them. If you already have a qualified audience in place, participating in sweepstakes affiliate marketing is very worthwhile.
Sweepstakes offerings can perform exceptionally well with the correct audience on any platform, including blogs, YouTube channels, well-known social media accounts, and other platforms, and you can start making money right away.
The advantages of using sweepstake affiliate networks in USA will become clear if you put in the time and effort.
What to look for in sweepstakes affiliate programs in USA?
With so many accessible sweepstakes affiliate programs, how do you pick the best one? Before registering, make sure to review the crucial topics we've specified.
Threshold Payment
Prior to signing up, it's usually a good idea to double-check the payment thresholds for each site.
The top sweepstakes affiliate networks provide simple withdrawal requirements; it's not unusual to see a $5 minimum.
Pick wisely since some networks cost up to $300 and more.
Supported verticals
The finest networks have offers in a variety of various verticals, including dating, gaming, gambling, and cryptocurrency, even though you want the network to promote sweepstakes offers.
Being able to generate consistent monthly income by offering more than just sweepstakes offerings is a wise move.
Payment schedule
The payment cycles for each network differ significantly.
The most effective networks are able to provide weekly payments via a variety of payment options, including PayPal, bank wire transfer, and a number of cryptocurrencies.
Biweekly and monthly payments are also common; before committing, think about which works best for you.
What are the top affiliate offers for sweepstakes and what is their platform?
The table below lists some of the most significant sweepstake affiliate offerings along with their platform.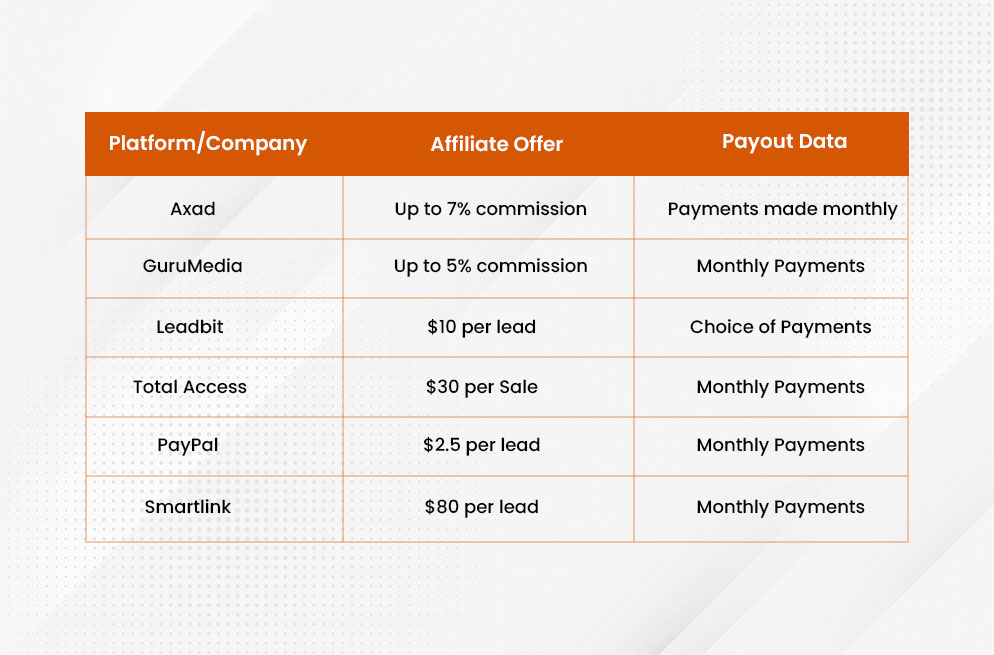 For your convenience, we've included the best sweepstakes affiliate programmes in the USA that provide incentives for all widely used mobile operating systems.
Utilize the top sweepstakes affiliate networks in USA
With the help of sweepstakes affiliate networks, you can earn a reliable passive income while enjoying a great deal of flexibility.
Overall, sweepstake products and services are more than worth a look if you have a channel you can utilise to sell them. The top sweepstakes affiliate marketing networks in USA are available at Axad. Avail the benefits right away!
---