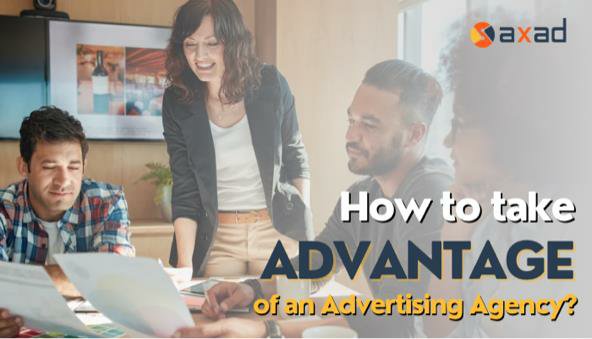 Advertising agencies have been around for over a century, helping businesses of all sizes to promote their products and services to a wider audience. From the early days of print and radio advertising to today's digital landscape, the role of an advertising agency has evolved to meet the needs of a constantly changing marketplace.


At its core, an advertising agency is a company that specialises in creating and executing advertising campaigns for clients. This can include everything from research and strategy development to creative concepts and media buying.


The goal of an advertising agency is to help its clients reach their target audience and achieve their marketing goals, whether that's increasing brand awareness, driving sales, or something else.


One of the biggest advantages of working with an Advertising Agency is their expertise in the field. Advertising agencies employ a team of professionals with a wide range of skills and experience, including account managers, creative directors, copywriters, and media buyers. This allows them to take a holistic approach to advertising and to create campaigns that are tailored to the specific needs of each client.


Another advantage of working with an advertising agency is their ability to stay on top of industry trends and changes. As the advertising landscape continues to evolve, agencies need to stay up-to-date on the latest technologies, platforms, and consumer behaviour in order to create effective campaigns. This means that agencies are constantly researching, experimenting, and testing new ideas, which can be a huge benefit for clients.


Of course, working with an advertising agency is not without its challenges. For one thing, it can be expensive, especially for small businesses or startups. Additionally, some clients may feel that they are not getting the level of attention and communication they need from their agency.


Despite these challenges, however, many businesses find that the benefits of working with an advertising agency far outweigh the costs. By having access to a team of experts, staying current with the latest trends and technologies, and being able to focus on their core business, many clients find that working with an advertising agency is a valuable investment in the growth of their business.


If you're looking to promote your business, increase brand awareness, or drive sales, working with an advertising agency may be the right choice for you. By providing you with the expertise, experience, and resources you need to create effective advertising campaigns, AXAD, the advertising agency is here to help you achieve your marketing goals and grow your business.


AXAD here suggests some advertising and marketing blogs that can help you to grow effectively.


Get Inspiration from the list of best advertising agency blogs:


Ketchum: This PR agency works with major brands around the world. They share their experience, thoughts, and ideas on public relations to social media communication issues involved in online marketing. You can learn communication lessons from this PR agency.


Ogilvy: In this one of the top advertising agencies, you can learn about creative flow. So that you can learn and deliver more value to your clients.


Waggener Edstrom Blog: It is one of the top communication and public relationship platforms that talks about people, brands and technology. It is a great place where you can find the best comments and discussions about brand communications and marketing campaigns.


Adland: It is an image-based blog that showcases innovative advertisements across a range of platforms, including print, radio, television, and social media, as well as the narratives that go with them. Adland features an impressive library of past advertisements as well as what appears to be a collection of every Super Bowl ad ever produced.


Gary Vaynerchuk: This digital marketing guru, in his blogs shares his thoughts on everything that helps you to boost your online presence. Here you will get a wide variety of content such as how to use new chatting sites, selling and buying strategies, the value of emotional intelligence, updated news, technology and increasing entrepreneurship etc.


AMP: This full-service advertising agency covers topics of brand strategy search engine marketing, social marketing, creative strategies, content strategies etc. Here you will get information on the latest trends.


Kissmetrics: This advertising agency blogging platform covers the ins and outs of digital marketing campaigns. Here you can learn how data is impacting various aspects of marketing.


The Inspiration Room: If you are looking for creative inspiration then this is the perfect platform. The blog here covers advertising, film industries and design aspects. The content for these pieces was provided by agencies, production businesses, photographers, sound and music providers, and PR firms. The people behind it also conduct original reporting on stories they believe merit promotion.


HubSpot Marketing: This is the most impressive marketing automation Boston-based giant that is packed with a wide range of topics. Here you can learn and inspire from things like modern marketing, creative videos, and content curation strategies.


SpinSucks: This lively destination of marketing, communications and PR will let you learn new tactics, and evaluate digital tools to improve your crafts from scratch.


IDEO: In this Octopus Blog you can learn things from a designing perspective. The thoughtful discussion of product and service design will get you thinking in new ways about how to communicate with customers.


RazorSocial: The blogging section of this content and social media marketing company provides helpful tips on using technology tools, creating better content and building partnerships to develop your reach.


DIYMarketers Blog: This is a helpful blog for small business owners to focus on marketing activities to provide the best business results.


Each blogging section of the advertising agency is like a mini-tutorial on different aspects of online marketing, customer reach, trending technologies, engaging, research-oriented topics, the latest news, user tips and even general information on better ways.


Final Thoughts
Working with an advertising agency like AXAD might be the best option for you if you want to advertise your company, build brand recognition, or boost sales. Explore the world of a branding agency and gain insight into it to include creativity from scratch.
---