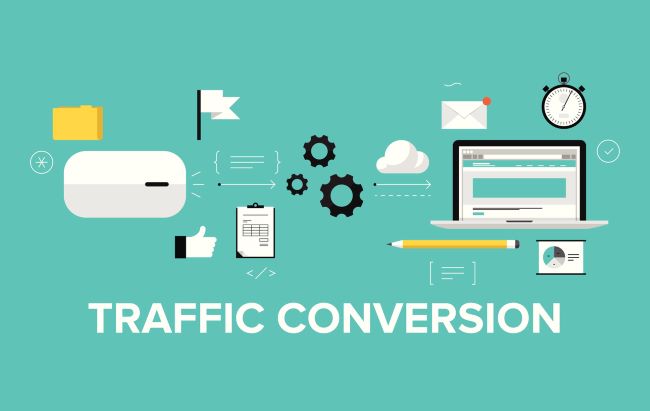 When you are serious about optimizing conversions, you need to pay attention to where your site visitors are coming from. Once you know where the website traffic came from, or know the best traffic for the website, you can take further steps to boost your conversions.
First, know why website traffic is important for you?
Analyze different types of traffic that you can understand:

From where your website traffic is coming

How much of your traffic can the target audience

check visitors behaviour

ROI from digital marketing activities
To achieve the right kind of website traffic and to develop your affiliate marketing traffic you need all the above-mentioned pieces of information. To understand the analytics results, you need to have some background information about where traffic comes from and what it means for your business.
AXAD here prepares the basic type of affiliate marketing traffic, where you need to work on:
Organic traffic is a kind of website traffic that originates from search engine results pages. When someone types a keyword into a search engine and clicks on one the result shows it becomes organic traffic.
Google tops the organic traffic sources list. There are many other search engines. Benefits of organic traffic in comparison to other traffic sources:

High ROI
Organic traffic often requires a one-time upfront cost to develop content on a page, then you may need to pay a small recurring fee. Therefore if you hire an SEO team to keep your content front and centre. Sometimes organic traffic is listed as a free traffic website for affiliate marketing but it is not always free. It usually costs far less than other traffic sources and provides higher returns for longer than any other traffic type.
Scalable
No matter how large your website or budget is, you need to attract organic traffic. A business that needs a freshly built website can

start simple SEO

for little to no cost, with room to grow as they do.

Establish your market positions
To approach SEO you will find different ways. If you are targeting highly competitive keywords then it won't be cost-effective. Therefore you can shift your mission to less competitive keywords.
Boosting Conversions for organic traffic
Focus on relevance: Any kind of website traffic won't suit your business. You have to check on the right kind of traffic. You need to provide a CTA that will be appealing to your real audience.
Traffic to improve total conversions: Focus on boosting your traffic itself. By ranking for more keywords and getting into better ranking positions, you will be able to get overall traffic.
Build a landing page: The landing page are where people enter your website from outside. It can represent anything for your website either your home page or a product page that is dedicated to a specific keyword. Your best landing page has a specific USP, it needs to speak well to its audience, focus on the CTA, having feature design elements that naturally draw visitors' attention.
Optimize for buyer intent: Every keyword comes with a different level of buyer intent. Optimize your content and CTA to match your audience. It is good to have a mix of content from the top to the bottom of the funnel to build a link for natural progression.
Direct is a kind of affiliate marketing traffic that never comes from the same source but instead lumps together all traffic without a defining gateway. Direct traffic can come from any source such as:

Visitors who type in the URL manually

Browser bookmark clicks

Referrals from HTTPS to HTTP websites

Tracking code failures

Inappropriate page redirections

sources of Non-internet link such as offline documents, PDFs, messaging apps, etc.

Boosting conversions from direct traffic
Direct traffic through measurable data : If you can't identify the traffic source, you can look at different other data associated with site visitors themselves. Your direct traffic segments can be prepared based on visitor activity, types of devices, visited page, their location, or different session numbers.
Offer an inceptive for traffic source information :Opt-ins are a tough sell to offer a free lead magnet in exchange for information about how a visitor discovered your page. You may not capture info about every direct traffic visitor, but you can get some insights into the audience and extrapolate for a decent picture of visitors' resources.
Analyze direct traffic landing page data:To boost your conversions you need to attract people to your website in the first place. The landing page where direct website traffic visitors end up can point to where they came from.
It is one kind of increased website traffic source that comes from another website. The legitimate sources for referral traffic come from:
Blog posts or articles linking to your website

Guest posts

Bios and info snippets

Ranking and review sites

Infographics and images
Referral Traffic can boost your conversions
Build custom landing pages: When you have control over your referral traffic, you should direct visitors to specific landing pages that are relevant to the referral source. A few landing pages create A/B testing to optimize engagement, whether that's direct conversions or going on to other pages and converting at a later time.
Manage incoming links: Boost your conversions from referral traffic to ensure that traffic is coming from relevant sources. To analyse our inbound links to see where traffic is coming from. When you find sites that are linking with relevant content, reach out and try to build a relationship. It will help to lead to more links in the future to gain relevant traffic.
Focus on Opt-ins and remarketing: If you don't have referral traffic to land on your page then you can capture user data through specific opt-ins. Opt-ins helps to remarket to people who are already familiar.
Social traffic involves your site from specific kinds of apps or websites, namely social networks. Social traffic is 2 types like public social and dark social. the general public social traffic like Facebook, Instagram, Linkedin, Pinterest, YouTube, Tiktok, and Twitter.
Dark social is difficult to trace because it comes from less open sources like less open email, text messages, and other messaging through online platforms.
Boost conversions from social traffic

landing page optimization for mobile users
The majority of social media visitors now use mobile devices, so it's necessary to form your website mobile friendly but most users don't choose to make purchases or visit websites on mobile devices.
Use social proof
Social proof is when others speak about you in an exceedingly positive light, confirming the items you say about yourself. it is a good way to create trust in your brand by showing your followers that you are not just making stuff up.
Use all the proof available to you to indicate how effective your products are. Highlight customer reviews, ask previous customers for testimonials, write up case studies, and link to other posts, articles, blogs, etc., that are talking about you.
All the satisfied customers will always voice their opinions of your business to others and have a neater time making purchases from you within the future. once you have a social media customer service offering, it'll be easier to serve your customers and have interaction with them in their preferred channel.
By showing people the social proof first, you'll be able to drive more people to return to your website with a good opinion of you and a stronger buying intention. The result's the next conversion rate.
Paid traffic for affiliate marketing. Paid traffic means any traffic that involves your website from paid promotions or advertising.
paid traffic for affiliate marketing sources are:
Display ads (Google Adsense, Apple Advertising, media, Facebook Network Audience Ads, etc.)

Social media ads (Facebook, Instagram, Twitter, YouTube, etc.)

Search engine ads (Google Adwords, Microsoft Advertising, etc.)

Native ads (promoted or sponsored content)
How to optimize conversions from paid traffic?
A/B Test your landing pages: A/B test for your landing page will help to specialise in the CTA, the headers, the structure of the content, and therefore the overall messaging of the page.
Attract the proper traffic: To attract the correct traffic you would like to understand who you would like to advertise. It helps if you have already got an audience profile for your business. Collect every information about your audience. it'll help to make customer profiles to make your audience feel more real.
Create cohesive ad copy: If your ad makes people consider something completely different than the landing page provides, it's not going to work well for conversions. ensure your ads are well written to inform people the advantages they're going to get from clicking.
Email traffic is that the quite website traffic that involves your website from email marketing campaigns. email traffic is one amongst the foremost valuable forms of traffic, you actually must mark it to attain better conversion.
Tagging email traffic
The simplest way for tagging email traffic is with an Urchin Traffic Monitor code. UTM codes allow you to determine that a particular portion of traffic came from one specific marketing activity. you've got to come up with a brand new code for each campaign unless you wish to accidentally lump all of your email traffic together into only 1 metric.
Boosting conversions from email traffic
Follow logical path: Create an email marketing plan with a logical progression from start to end. When your email is tied to every other or incorporates a cohesive theme, people are more likely to read consistently.
Think personal rather than corporate: Storytelling works well in email marketing. It's an uphill battle to inspire people to read through emails, so having a robust opener sort of a personal story gets your readers locked in early.
Remember: the aim of everything you write is to urge people to read the subsequent thing you're writing. Your subject line should get people to open and browse your introduction. That intro should get people to read the body of the email… You get the purpose. once you throw CTAs within the mix, it is a great way to extend your conversions.
Check a Heat Map: Want to grasp the simplest thanks to improve your conversions? listen to what people do once they reach your site.
A heat map helps you evaluate where people go, how long they stay during a certain area, and where they bog down. By analyzing a heat map, you'll get ideas about a way to rearrange your content to reduce bouncing and make it simple for people to convert.
Automate
Just because your emails should be personal does not imply you wish to type all of them right as they go out. Prepare your emails at a previous time and set them up to transmit at specified times.
The other thing you wish to automate is response emails. Automated responses are often following up with leads, reminding people to continue a process they didn't finish, or telling people about other things they will also like to support previous engagement.
Final Thought
All website traffic is useful, but all are unique in their way. You cannot expect the same traffic from all the sources. To make the most of your traffic, you need to know where it is coming from. Once you understand the traffic source, you'll be able to start work on optimizing conversion. alternatively you'll take the assistance of AXAD. As an internet marketing agency, the AXAD team is incredibly cognizant of every kind of traffic sources. They know which source will work with that marketing theme. So you'll be able to just depend on AXAD to achieve conversion from different website traffic sources.
---