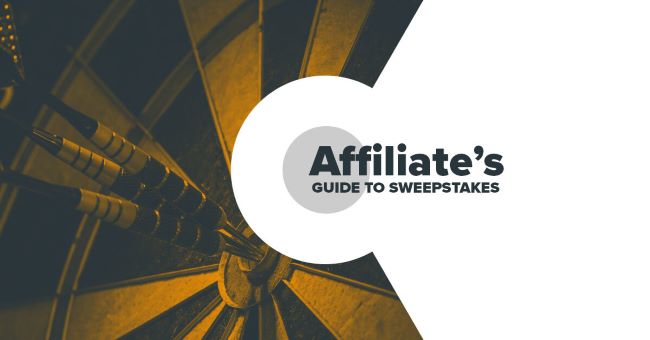 Sweepstakes, one of the oldest niches in affiliate marketing, still counted as the most effective marketing tool. Despite the fact that changing games are always on high, many main tendencies are changing, Sweepstakes are still on the top.
Definition of Sweepstakes
Sweepstakes are kind of lotteries and raffles where users may win a prize by chance. As a prize, many offer gadgets and gift cards. The users who participate leave their contacts and share personal details, sometimes paying a small sum of money to win the desirable prize.
This gives the advertisers and giveaway organizers to get the user base to work with. They collect information like age, sex, address, habits, etc as per their need.
sweeps help companies to get helpful information that can be further used to send out promotional offers or build effective marketing strategies. Even some advertisers can earn on the resale of the date when they use it. Affiliate marketers can earn more from Online Sweepstakes after adding more to the questionnaire. Like along with elders they can add some questions for their babies and can resale children's data to the baby stores.
Different types of Sweepstakes Offers:
Sweepstakes promotional offers are depending upon your awareness of turning conversions. If you know how to work on each funnel peculiarities in the vertical then it will be easier for you to choose a definite type of offer.
Basically, there are four types of Sweepstakes and they depend upon the actions a user is taking for making it for conversion.
Single Opt-In- SOI

Double Opt-In- DOI

Mobile Subscription

Credit Card Submit- CC Submit
SOI and DOI
Both Single Opt-In and Double Opt-In are lead generation offers with the easiest conversion flows. The user files in a few forms with personal information and leaves the email or telephone number. It is complete for SOI format. Whereas for DOI sometimes questionnaires include email entry as the second step. the user should confirm the email or telephone number. After this, they need to answer questions about interests, age, marital status, profession, or specific questions related to the advertisers' interest or based on product and services. You need to check the size of it. Sometimes the questionnaire consists of 10 or even 20 fields to fill.
CC Submit
The credit card submission offer provides a lottery of mobile phones for $1 or subscriptions to the services or film watching with a small price for the trial period. By paying a small sum of money, written off from the user's card, the conversion is considered to be completed. The users agree to pay a few dollars to take part in the lottery as per the rule.
The main point here is the user needs to be prepared to share their credit card information.
Mobile Subscription Offers
Certain mobile operators with this offer support mobile subscription services. The offers include expensive prizes, lotteries, and service subscriptions. The off-page successful conversion includes SMS subscriptions. In some cases, users need to enter the PIN code they have got via SMS on the page of the offer.
The subscription payment is carried out with the mobile operator's help, to get an SMS in return to the offer page and enter the PIN code. It may hamper the conversion. For online Sweepstake, the traffic sources come mostly from Facebook, Push, Pop, and e-mails in affiliate marketing.
In Push ads different types of offers can be added, the only thing important here is to pass the network's moderation. As per the rule, networks should not use well-established conversion approaches such as using brands' logos, celebrities' use or misleading in any way. However, affiliate marketing has managed to overcome these obstacles.
What are the push ads peculiarities for the Sweepstake first steps:
You need to make 5-10 creatives as per one campaign to make A/B testing. Push ads actually help to make a profit. Here you need to test different landing pages for each ad copy. Replace creatives from time to time to keep high CTR rates.

Mobile and desktop both are good for user acquisition with different bid costs. Create separate campaigns to save your budget and make easier optimization.

On Sweepstakes Push ads you can use pre-landing or landing pages. Direct links are not an option for this vertical.

As an n impressions limit value, set up 2 impressions per day.

Let the account manager create a whitelist for your offers.

Go for premium traffic sources. Those can show the highest performance across all verticals and GEOs.
AXAD is a famous Affiliate marketing firm that is offering online Sweepstake services for newbies. Check out the list for choosing the Sweepstake offer that works for you the best:
Right Conversion Flow:
As a starter, the sweepstakes offer slightly different conversion flows for you. So go for the ideal conversion flow as per your expertise level. Choose single Opt-In offers as they don't require huge budgets but can make a significant profit. Here you can perfect your skills in image sourcing and CTA crafting. After that, you can switch to DOI models as they tend to produce the best results.
Find Best GEO:
In affiliate marketing when the time comes for selecting GEOs, companies stick to Tier-3 countries as they are easier to convert but have a lower payout. For season marketers higher payouts are good to convert Tier-1 countries, but they are harder to convert. In Tier-1 countries, single opt-in formats have a high-profit margin as they are harder to convert.
Offer based on the product quality:
Instead of simply picking any offer with a lucrative prize, look at the GEOs you are going to target and figure out what people in this area are interested in.
Review the Conditions:
Pay close attention to the terms and conditions. Remember that the more promotion methods you are allowed, it will be easier for you to generate conversions. Now it is important for you to review all parts of the offer along with focusing on:
Verify the Capping

on the choosing offer to maintain costs as low as possible. All offers need not have capping except your choosing one. You should cut off traffic after you hit the daily limit and avoid paying for traffic that won't generate any profits.
Identify the differences between mobile and desktop campaigns

. Mobile requires more optimization compared to desktop because users tend to be more engaged.
AXAD Team's Extra Tips For You:
The advice buckets from the AXAD team include extra tips to set up your sweepstakes campaigns:
Focus on clear measurable goals for your campaign, including a timeline.

Search for promo tools at your disposal as they do the work for you.

Work on your creatives, because the landing page will only be successful if your creatives are.

A/B tests at least 2 landing pages: one with a variation from the advertiser's.

Get feedback on affiliate marketing forums. Get advice on prizes, rules for entry, or profitable niches on good forums.
Final Touch
Running sweepstakes has different ways and all the variety can give you a lot of room to experiment. For a swift starting in affiliate marketing, learn the industry from the ground up. Alternatively, if you're an experienced marketer and looking for a new challenge, then sweeps can also offer higher risk, and higher reward opportunities too.
To get started with some great Sweepstakes offers, head over to the AXAD platform and speak to one of our team today.
---